Rehabilitation of Port Severn Area Dams and Bridges
Trent-Severn Waterway National Historic Site
Parks Canada Investments in Port Severn
Parks Canada structures dot the landscape of the community of Port Severn and provide essential infrastructure that connects people, supports tourism and preserves public safety. Parks Canada is investing over $48 million into assets in the community over 3.5 years. Parks Canada is leading important infrastructure work to ensure safe, high-quality experiences for visitors by improving heritage, visitor, waterway, and highway assets located within national historic sites, national parks, and national marine conservation areas, including along the Trent-Severn Waterway National Historic Site.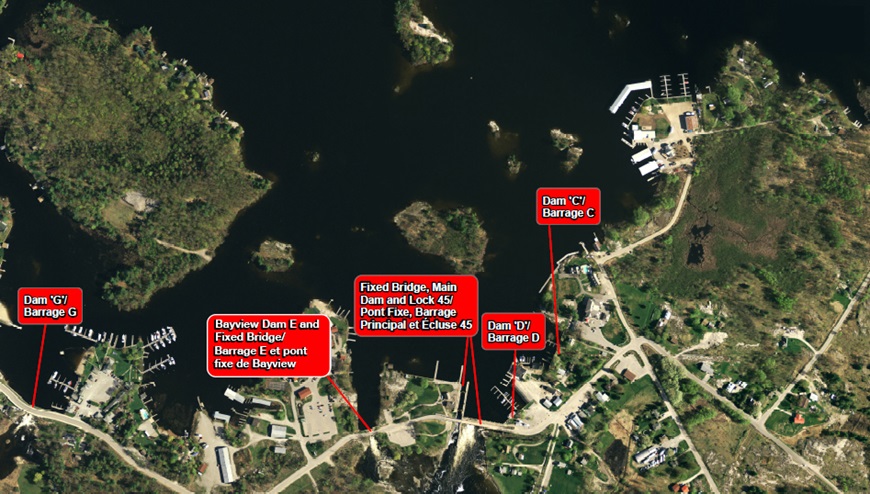 Main Dam & Fixed Bridge Replacement
This work includes a full demolition and reconstruction of the main dam, fixed bridge deck and piers, as well as concrete work on the bridge abutments. Work began in November 2018 with the construction of a cofferdam, which serves to create a dry in-water work space.

Water levels on upstream and downstream watercourses should not be impacted by construction as the work will be sequenced so that water can be managed appropriately through dam sluices or temporary bypass structures. The overall water management strategy will not change during construction.

In order to complete this essential work, Port Severn Road North will remain closed for 18-24 months. (see detour map)

Once complete, the life and function of these structures will have been extended for decades, continuing to connect the community of Port Severn between Georgian Bay and Severn Townships.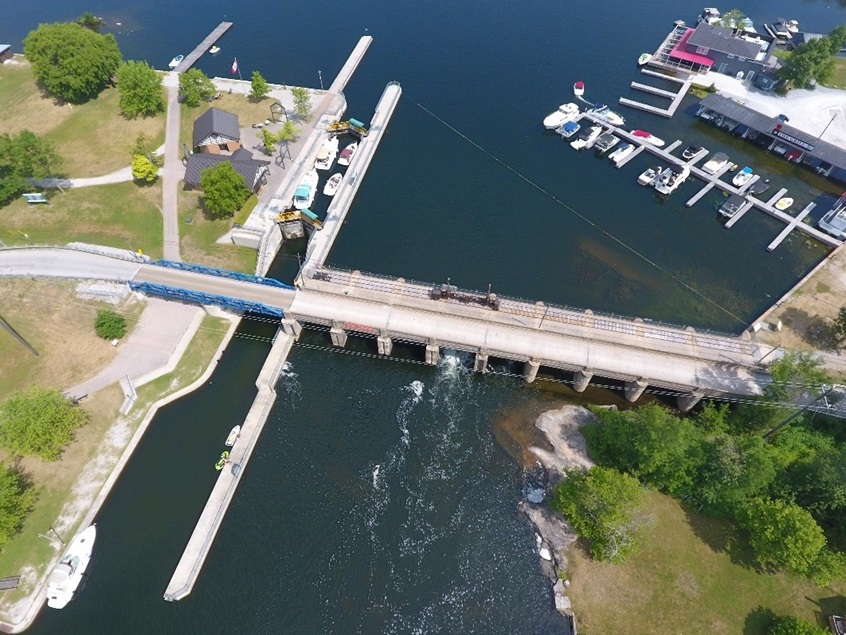 Bayview Dam E & Fixed Bridge
Parks Canada has rehabilitated and rebuilt Bayview Dam E and its adjacent fixed bridge.
In order to reduce traffic congestion between the swing bridge and Bayview Bridge, this one-lane bridge was replaced with a two-lane bridge over Bayview Dam E. Additionally, the water management operability of the dam has been optimized.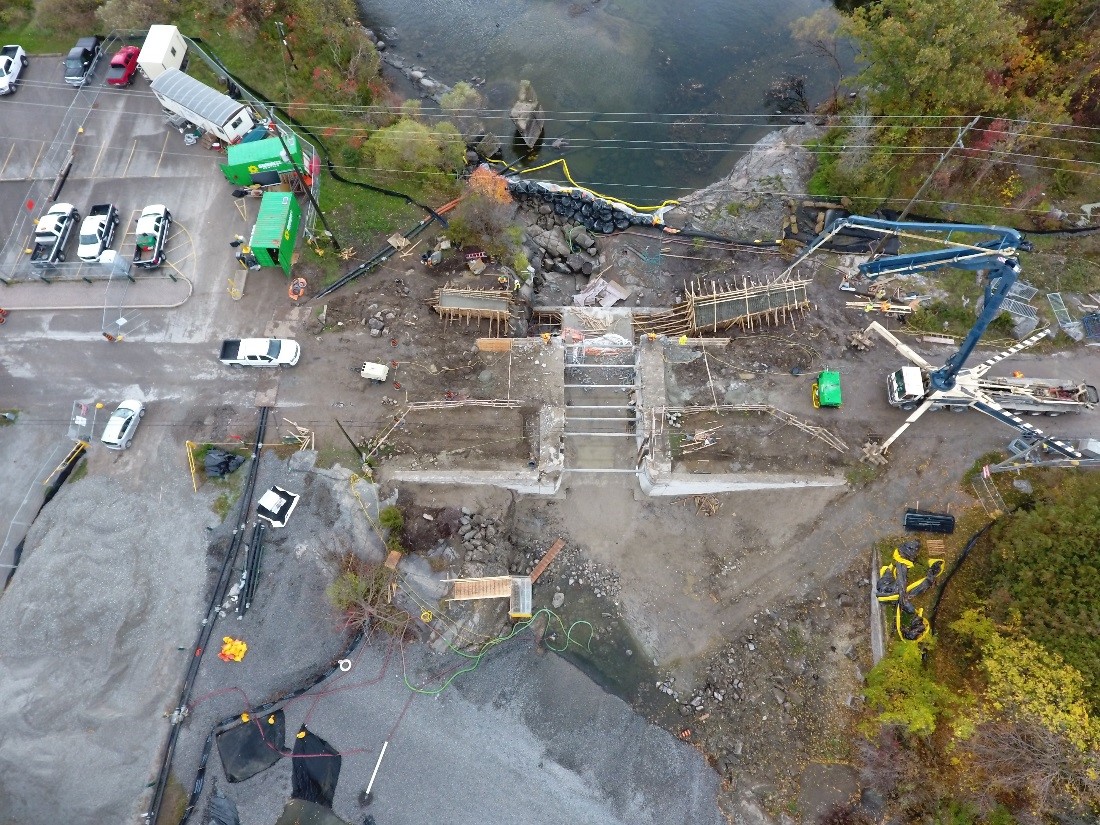 An important spawning site lies below Bayview Dam E. Parks Canada adjusted the original construction schedule in order to protect important species of fish.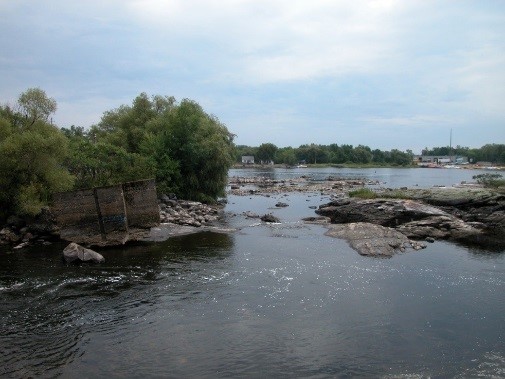 What are Blind Dams?
Blind dams often appear as concrete walls connecting surrounding waterway infrastructure. These structures have footings that anchor them into the earth beneath and beside the dam. In Port Severn, blind dams can be found at Dam D perpendicular to the main dam, and Dam C (see aerial map).
The long term sustainability of the blind dams is an integral part of flood mitigation for communities, providing for the safety of visitors, residents, and property. Rehabilitation at Dam C took place over the fall of 2018. Similar repairs will be undertaken on Dam D during the work being completed on the main dam and fixed bridge.
Port Severn Detour Route
Port Severn Road North at the main dam and fixed bridge is now closed for a duration of approximately 18-24 months. Highway 400 from Port Severn Road offers the alternate driving route to cross the Trent-Severn Waterway. Due to the restrictions at this site, pedestrian access is not available.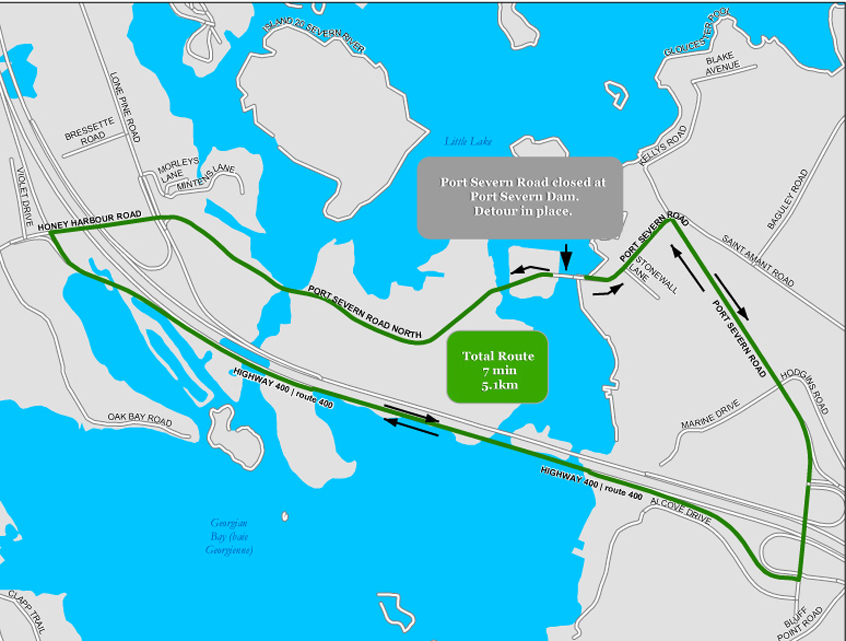 Communications