Info-Work: Bridge Replacement: Washago at Couchiching Lock 42
Trent-Severn Waterway National Historic Site
Peterborough, Ontario, January 9, 2020 - The fixed bridge at Lock 42 will close Friday January 10, 2020 and is expected to re-open Spring 2020.
About this Project
The fixed bridge at Lock 42 is nearing the end of its lifespan and will be replaced in its entirety. The new bridge will have a lifespan of approximately 50 years and will ensure long-term sustainability of this vehicle travel route along the Trent-Severn Waterway while minimizing annual maintenance requirements related to the bridge.
This project includes a full replacement of the fixed bridge, re-facing of the bridge abutments, and road work on the bridge approaches. The bridge is being built off site in order to mitigate impact to the public and will be assembled on- site over the following months.
What I Should Know
Residents are advised that the infrastructure improvements at neighbouring Hamlet Bridge will partially share the same recommended detour route, be sure to follow signs accordingly to avoid confusion.
Parks Canada recognizes the impact of this work for the public and is committed to providing updates. Further project details will be provided publicly as they become available. If you would like to be added to our community engagement list to receive regular email updates on this project, please send an email to Ont.Trentsevern@pc.gc.ca and include "Couchiching Fixed Bridge" in the subject heading. We appreciate your patience and understanding as this project moves forward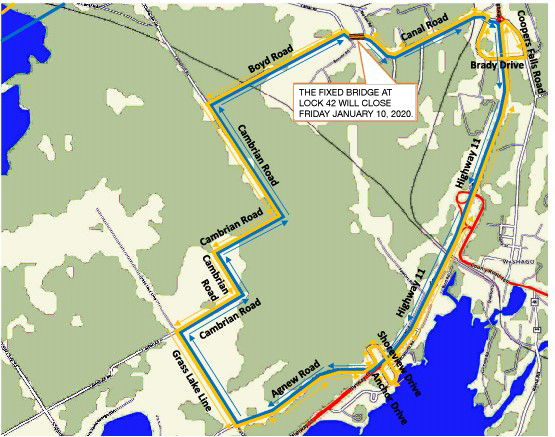 Parks Canada is leading important infrastructure work along the Trent-Severn Waterway National Historic Site to ensure safe, high-quality experiences for visitors by improving heritage, visitor, waterway, and highway assets located within national historic sites, national parks, and national marine conservation areas.
For up-to-date news on infrastructure work along the Trent-Severn Waterway, please visit www.parkscanada.gc.ca/TSWinfrastructure.