Community Update: Replacement of Brighton Road Swing Bridge
Trent-Severn Waterway National Historic Site
Construction update – May 04, 2018

As the bridge nears completion, updates will be provided with more frequency. If you do not currently receive email updates about this work and would like to, please email us at: Ont.TrentSevern@pc.gc.ca and include "Brighton Road Swing Bridge" in the subject heading.

The main components for the new Brighton Road Swing Bridge structure have now all arrived at the site and contractors are in the process of assembling the bridge and welding components together. Mechanical components are being installed and electrical power is being distributed to the bridge and the operator's kiosk.
The bridge has been installed in the 'open' position, and so will be in the open position on May 18 for the beginning of the 2018 boating season on the Murray Canal. Its position will enable crews to work from the concrete piers while installing critical components for its operation. The bridge itself is expected to be operational for vehicle traffic by the end of June.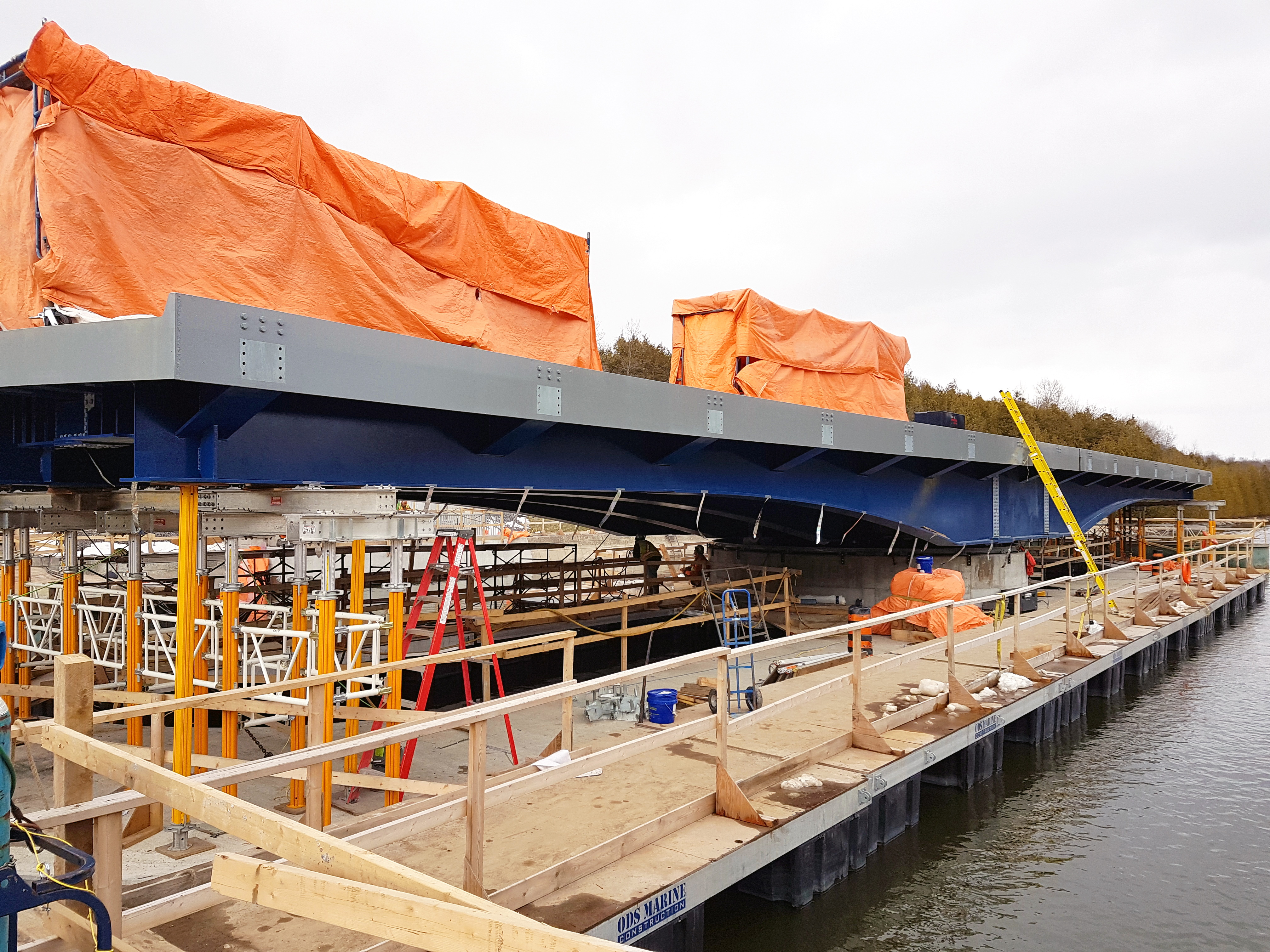 About the project
Parks Canada has announced over $615 million in investments into the locks, dams, bridges and other infrastructure along the Trent-Severn Waterway. This scale of investment hasn't happened since the TSW was originally constructed, between 98 and 185 years ago.

The Brighton Road Swing Bridge spans the Murray Canal on County Road 64, connecting Prince Edward County and the Municipality of Quinte West. The bridge is being replaced with a new two lane swing bridge that will also have a pedestrian sidewalk, a full highway load rating eliminating the current restrictions for emergency and service vehicles, and upgraded mechanical and electrical features. The bridge was fabricated off-site and transported to the site in sections for re-assembly, decreasing the length of closure. The bridge abutments and centre pier are being rehabilitated to accommodate the new bridge.
To find out more
A photo gallery of the ongoing work at the Brighton Road Swing Bridge has been shared to www.parkscanada.gc.ca/tswBrighton, and information about other Trent-Severn projects can be found at Parks Canada's website www.parkscanada.gc.ca/tswInfrastructure.