Community Update: Replacement of Brighton Road Swing Bridge
Trent-Severn Waterway National Historic Site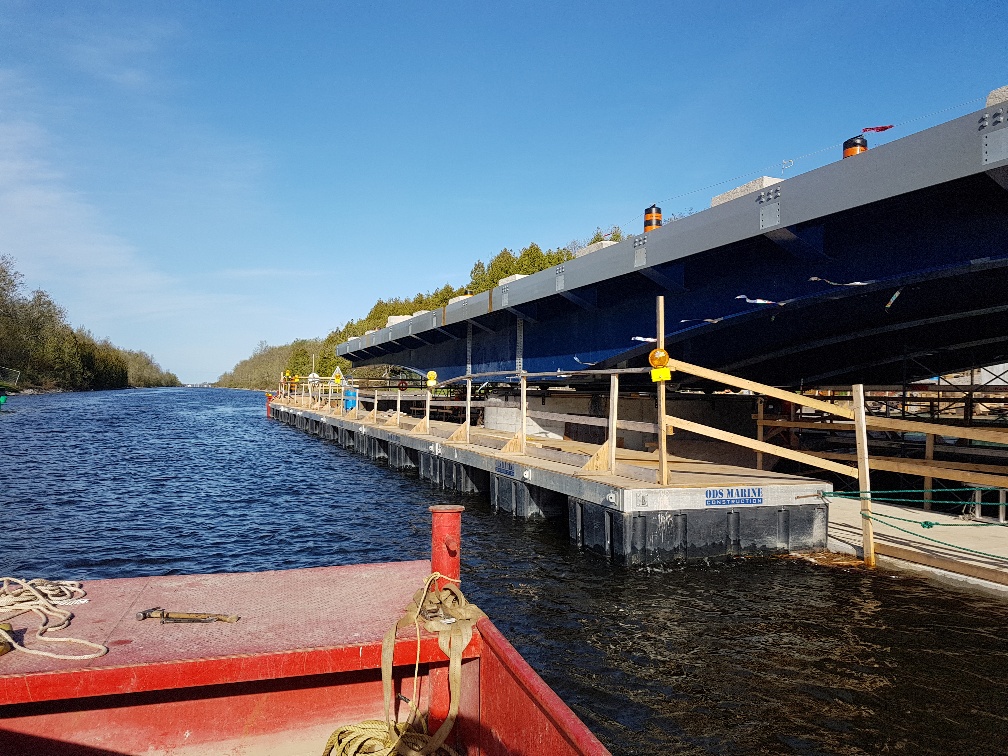 Construction update – May 29, 2018
Work continues toward the completion of the Brighton Road Swing Bridge. This includes the continued manufacture of hydraulic components, road and ditch improvements at the south bridge approach, and the offsite manufacturing of vehicle guard rail systems. A curved parking lot retaining wall on the south east side of the road is under construction.

The bridge is expected to be operational for vehicle traffic by the end of June. It is currently in the open position, which allows for boats to pass. Parks Canada asks that boaters treat this as a no wake zone, to protect both the shoreline and construction materials. While the contractor is working to complete the project as quickly as possible, the area around the bridge remains a construction site. For your safety, be advised of the following changes to service at the Brighton Road Swing Bridge:
May to early July 2018
Mooring is not available at the site;


The lock grounds and washroom facilities are closed to the public; and,


The canal paths are closed at this location.
About the project
Parks Canada has announced over $615 million in investments into the locks, dams, bridges and other infrastructure along the Trent-Severn Waterway. This scale of investment hasn't happened since the TSW was originally constructed, between 98 and 185 years ago.
The Brighton Road Swing Bridge spans the Murray Canal on County Road 64, connecting Prince Edward County and the Municipality of Quinte West. The bridge is being replaced with a new two lane swing bridge that will also have a pedestrian sidewalk, a full highway load rating eliminating the current restrictions for emergency and service vehicles, and upgraded mechanical and electrical features. The bridge was fabricated off-site and transported to the site in sections for re-assembly, decreasing the length of closure. The bridge abutments and centre pier are being rehabilitated to accommodate the new bridge.
To find out more
Parks Canada will continue to provide updates on the work. If you do not currently receive email updates about this work and would like to, please email us at:
Ont.TrentSevern@pc.gc.ca
and include "Brighton Road Swing Bridge" in the subject heading.
A photo gallery of the ongoing work at the Brighton Road Swing Bridge has been shared to
www.parkscanada.gc.ca/tswBrighton
, and information about other Trent-Severn projects can be found at Parks Canada's website
www.parkscanada.gc.ca/tswInfrastructure
.