Hogs Back Dam and Fixed Bridge Rehabilitation
Rideau Canal National Historic Site
The Hogs Back Fixed Bridge and Dam rehabilitation project includes repairs to the piers and abutments of both the dam and bridge, the east and west upstream retaining wall, and tunnel under the west abutment of the bridge. The bridge deck will also be replaced. This project will be completed in phases, with substantial completion expected in spring 2021.
Phase 1:

Work is focusing on concrete rehabilitation of the piers and abutments, as well as retaining wall.

Phase 1 (a) construction:

Date:

Spring 2019 (Completed)

This phase included:

Demolition of the existing east upstream retaining wall
Pouring of its concrete footings
Excavation and extension of the east bridge abutment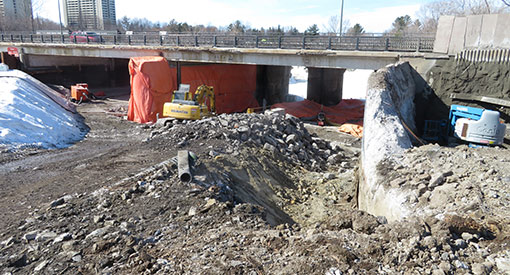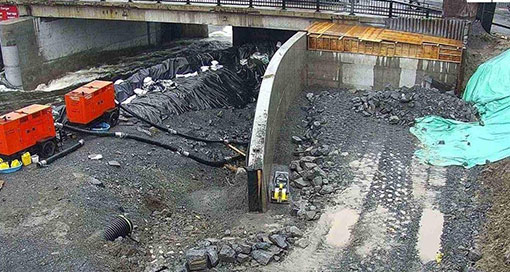 Phase 1 (b) construction:

Date:

Fall 2019 – Spring 2020

During this phase, the contractor will focus on concrete repairs to the west abutment and its pedestrian tunnel. The most westerly pier and a section of the west upstream retaining wall will also be repaired. During construction, the pedestrian tunnel under the west abutment will be closed.

Pedestrian detour




Phase 2

Date:

Spring 2020 - mid 2021

During this time, the fixed bridge deck will be replaced and the pedestrian tunnel on the west side will be repaired. In order to complete this work, a road closure will be in effect, anticipated from spring 2020 to the end of December 2020.

Vehicle detour
---
About Hogs Back Dam and Fixed Bridge:
Construction of the first dam at Hogs Back began in the late 1820s and was plagued with many challenges. Throughout its construction, the dam was compromised by unexpected high waters and the winter frost impacting its foundation which resulted in its collapse on three separate occasions.
Colonel By's team eventually installed timber cribwork and added a water waste weir to allow excess water to bypass the main dam during high flows. This dam was completed in 1830. Throughout the mid-to-late 1800s the dam sustained significant damage and underwent repairs. A reconstruction effort took place in the early 1890s.
The version of Hogs Back Dam in place today was completed in 1977 along with the fixed bridge. Hogs Back Dam is the currently second highest dam on the Rideau Canal system, following the dam located at Jones Falls.
The replacement of the Hogs Back Dam and Fixed Bridge is part of Parks Canada's infrastructure program, a $3 billion dollar investment over 5 years that supports infrastructure work to heritage, visitor, waterway and highway assets located within national historic sites, national parks, and national marine conservation areas across Canada
Communications
September 15, 2023 - Construction Advisory: Hogs Back Fixed Bridge
May 7, 2021 - Info-Work: Intermittent Delays for Vehicles on Hog's Back Road
December 23, 2020 - Community Update: Hogs Back Fixed Bridge Project Update
April 29, 2020 - Info-Work: Closure of Hogs Back Fixed Bridge Beginning on May
October 23, 2019 -Info-Work: Hogs Back Dam and Fixed Bridge Rehabilitation
July 18, 2019 - Info-Work: Impact on Rideau Canal Waterway
April 12, 2019 - Community Update: Construction Update
February 11, 2019 - Community Update: Phase One Concrete Repairs Underway
December 18, 2018 - Community Update: Ongoing Gate Replacements on the Rideau Canal
November 28, 2018 - Community Update: Cofferdam to be installed
October 25, 2018 - Community Update: Construction to Begin
August 03, 2018 - Community Update: Projects out to Tender
February 28, 2018 - Info-Work: Temporary Closure Pedestrian Walkway
February 23, 2018 - Info-Work: Temporary Closure
January 19, 2018 - Info-Work: Inspection of Hogs Back Dam
April 20, 2016 - Potential Traffic Delays: Hogs Back Bridge, Ottawa