Camping
Prince Edward Island National Park
Stay under the stars in PEI National Park and be serenaded by the sound of the wind and waves!
With two campgrounds and a variety of camping options (including tent and RV sites, oTENTiks, our new Bunkies and equipped campsites) near beautiful beaches and trails, Prince Edward Island National Park offers many choices for visitors who want to stay overnight. The camping season runs from June to September.
On September 23, 2022, Fiona's ferocious forces left an unprecedented wake of destruction across the province. In PEI National Park, storm impacts included the falling of thousands of trees, road and beach access washouts, and the significant erosion of the park's shoreline, including sand dunes.
For information about the upcoming changes to infrastructure and visitor experience for 2023 following Hurricane Fiona, please visit: parks.canada.ca/pei-fiona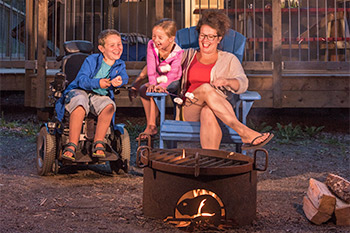 Parks Canada is committed to maximizing accessibility so that all visitors have the opportunity to enjoy Canada's natural and cultural heritage.
Find more information on Accessible facilities.