Equipped Campsites
Prince Edward Island National Park
Learn more about equipped camping and book your site today!
Parks Canada Reservation Service
1-877-RESERVE (1-877-737-3783)
Pack lightly and help make your vacation stress-free by booking one of our equipped campsites at Stanhope Campground! Each of the campsites comes set up with the basics for camping for up to four people.
Three equipped campsites are available side-by-side (sites 101, 103 and 105).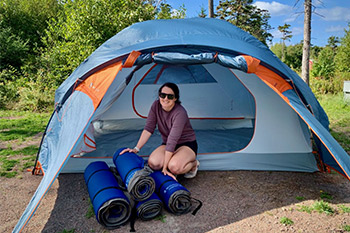 Amenities:
Tent for up to 4 people
Sleeping pads
Camping chairs
Battery powered lantern
Camping stove with propane
Fire pit
Parking area
Picnic table
Access to electricity and water
What to bring:
Sleeping bags, blankets, pillows, and toiletries
Food, drinks, dishes, eating utensils, a cooler, a water container
Matches or lighter to light the campfire
More information:
Kitchen gear rental bins are also available at Stanhope Campground kiosk at a rate of $25/night. The bins include dishes, utensils and pots. To book a bin please call 902-672-6350 or inquire about availability at the kiosk on arrival.