oTENTiks
Prince Edward Island National Park
Learn more about oTENTik and book your site today!
Parks Canada Reservation Service
1-877-RESERVE (1-877-737-3783)
Check out Prince Edward Island National Park's authentic oTENTik!
A structure that blends the fun of a tent with the convenience of a cabin, oTENTik is an appealing option for those who want a camping experience without the hassle. Take away the need for piles of supplies, tent pegs, and poles and you've got a fuss-free vacation in the making.
Each oTENTik sleeps 5 to 6 people, and they are available for reservation at Cavendish Campground (6 sites) and Stanhope Campground (8 sites). 2 oTENTik sites at each campground are equipped with accessibility features.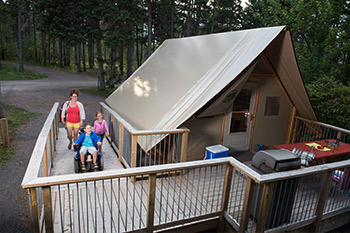 Amenities:
Parking area
Picnic table
Barbeque
Fire pit
Four Adirondack chairs
Dishes and cutlery
What to bring:
Sleeping bags, blankets, pillows, and toiletries
Food, drinks, a cooler, and a water container
Cookware, pots/pans
Matches or lighter to light the campfire
Slippers or indoor shoes – the first rule of camping is keeping the tent clean by removing outdoor footwear!