Bunkie accommodations
Prince Edward Island National Park
Learn more about bunkies and book your site today!
Parks Canada Reservation Service
1-877-RESERVE (1-877-737-3783)
Enjoy a peaceful and extra-comfortable camping experience with a roof over your head in PEI National Park's new off-grid accommodation: the Bunkie!
The Bunkie is a small cabin for 2 to 4 people. Each Bunkie includes one queen mattress bed and a double mattress loft. This space allows campers to fully relax and unwind without lugging much extra gear along with them.
Six Bunkies are currently available, with 2 in Stanhope and 4 in Cavendish.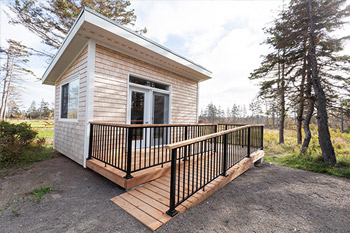 Amenities:
Parking area
Picnic table
Propane heater
Battery powered lantern
Fire pit
Camping stove with propane
What to bring:
Sleeping bags, blankets, pillows, and toiletries
Food, drinks, Dishes, eating utensils, a cooler, and a water container
Matches or lighter to light the campfire
Slippers or indoor shoes – the first rule of camping is keeping the cabin clean by removing outdoor footwear!