Spring in Jasper National Park
Jasper National Park
Why wait until the summer to visit Jasper National Park? Spring is equally enjoyable and considerably more serene with fewer visitors. Cooler nights give way to longer, warmer days as wildflowers begin to dot the park with colour. Newborn wildlife and migratory birds arrive, and receding snow unveils endless opportunities for outdoor recreation. Here are our eight freshest picks of things to do in Jasper during the spring.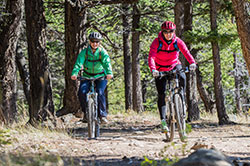 Get moving in the valley bottom
While snow can linger in the alpine region well into summer, the valley bottom blooms into life to offer many options for day hiking, mountain biking, road biking, and trail running. Follow the Easy Trail System to explore Jasper's wide open valleys, admire the rushing Athabasca River, and relax on the beach at Lake Annette and Lake Edith.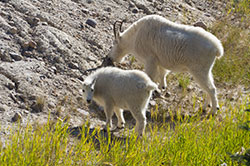 Wildlife
With over 50 species of mammals making their home here, Jasper National Park has an incredibly diverse animal population. The chance to view wildlife is one of the most exciting aspects of visiting our park. Spring is prime wildlife watching season as ungulates such as deer and elk begin calving, bears and their cubs emerge from hibernation, and kid goats begin frolicking. While viewing these animals, it is important to remain respectful and mindful of your safety and theirs.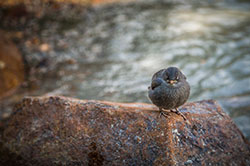 Bird migration
Spring is a unique time for bird watching in Jasper as several transient bird species make their way back from the south. Eagles can be spotted as early as mid-March, and admired throughout the spring and summer in areas such as Maligne and Medicine Lake. Several species of waterfowl and shorebirds also return to Jasper during spring. Head out to Cottonwood-Slough to view valley-bottom birds, or hike through Wilcox Pass for excellent high elevation birding opportunities.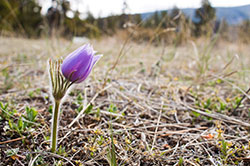 Wildflowers
South-facing slopes and open meadows in the valley bottoms offer great spots to view early-flowering plants. In early spring, look for the Prairie Crocus—a pale purple flower with a bright yellow center which blooms in April. June is when valley bottom flowers burst forth in profusion. Best bets include day hiking trails such as Valley of the Five Lakes, Pyramid Bench, or the Flower Loop just off of the Overlander Trail.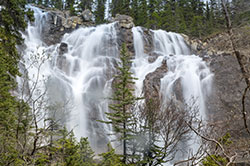 Chasing waterfalls
Snow melt coupled with spring rain showers lead to high water in Jasper's waterways, making spring the perfect time for waterfall viewing. Make your way onto the scenic Icefields Parkway to visit the thundering Athabasca Falls, then stop by Sunwapta Falls and be sure to hike to its lower falls. The photogenic Tangle Falls and the tiered Stanley Falls (a short hike) are also popular stops.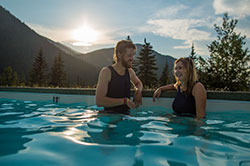 Miette Hot Springs
Springtime is perfect for a soothing soak in the Miette Hot Springs, which are at their finest during cool and rainy weather. Fed by the hottest hotsprings in the Canadian Rockies, there are hot and cool pools open daily from late May until early October. Check out the hours of operation.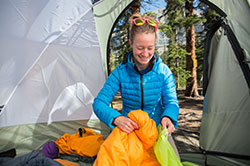 Camping
For those willing to brace the nighttime chill, and enjoy being under the second largest dark sky preserve in the world, Jasper offers several spring camping options. Cozy up around a campfire at Wapiti Campground or cruise into the Icefields Centre RV for early spring camping. Jasper's remaining campgrounds blossom with tents and trailers throughout May and June. Campgrounds can book quickly. Reserve today!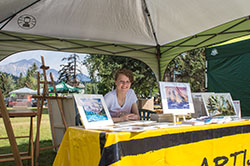 Indoor activities and community culture
Looking for an alternative to outdoor activities? Discover Jasper's rich historical roots at the Yellowhead Museum & Archives, dig into our colourful arts scene at our local art galleries, cultivate your knowledge at the Jasper Municipal Library, or indulge in Jasper's local and international cuisine in our many eateries.

Driving with wildlife
Spring is the best time to see wildlife in the valley bottoms. This means they could be on or beside roads and highways. Drive with caution.
Avalanches
Avalanche danger is variable during the spring and can range from Low to High. Don't forget to check the current avalanche conditions before heading out.
Road closures
Due to the unpredictable mountain weather and variable avalanche risks, road closures occur frequently in Jasper National Park during the spring. Be sure to stay updated on current road conditions before your travels by calling 511 or visiting alberta511.ca
Ticks and Lyme disease
Throughout Jasper National Park, from April to November, there is a small chance of being exposed to Lyme disease if bitten by an infected blacklegged (deer) tick. Lyme disease is a serious illness; however, it's easy to prevent and treat when caught early.
For more information on Lyme disease, blacklegged ticks, and how to protect yourself from tick bites while enjoying the outdoors, please visit the following websites:
Elk calving
Elk calving occurs from May 15 until June 30 in Jasper National Park, during which time mothers will aggressively protect their newborns by kicking and charging at people. During the spring calving season, some areas may be closed to human activity. This is to avoid elk and human conflicts. Check with park information centres for recommended places to hike at this time of year and of seasonal closures. Obey all notices and warnings concerning any wildlife.