Wildfires in the mountain national parks
Safety is Parks Canada's number one priority
Our crews are monitoring the mountain parks for fires on an on-going basis. In times of high and extreme fire danger, field units perform daily smoke patrol flights and have an initial attack crew along with a helicopter on stand-by.
Every year, multiple wildfires occur in the mountain national parks. Some of these wildfires threaten local communities and our crews take action immediately and swiftly. If the fires are in the backcountry and do not threaten local communities or resources, they are monitored and may be allowed to burn.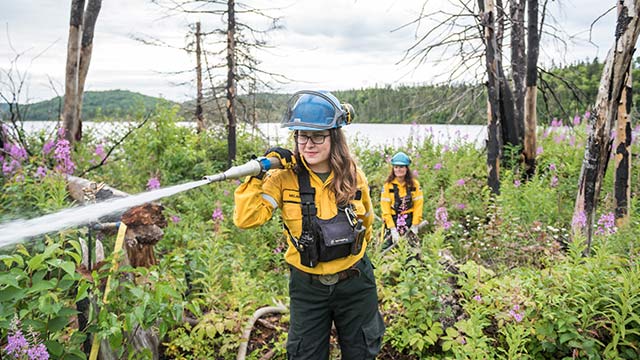 Protecting communities and ecosystems while building fire-resilient landscapes.
Report a wildfire
The safety of park visitors and residents is our first priority. You can help Parks Canada with wildfire detection. If you suspect a wildfire anywhere in the mountain national parks call 911 or Parks Canada Dispatch.
---
Help prevent wildfires
Keep your campfires in designated pits
Dispose of cigarettes in appropriate receptacles
Report any suspected wildfires
---
Watch for signs
Parks Canada is a world leader in restoring ecosystems through the use of prescribed fire. The smoke you see could be from a planned prescribed fire. If your travels take you past smoke or flames, look for roadside information and kiosks to learn about the important ecological role fire plays in these mountains.