The Chambly Canal path
Chambly Canal National Historic Site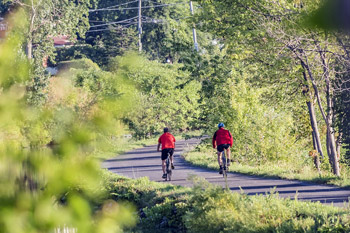 Connected to a vast network
The Chambly Canal path is part of the Route Verte no. 1 network and the Trans Canada Trail. It is connected to La Montérégiade, the Montée du chemin de Chambly, La Route des Champs and the Vallée-des-Forts bicycle axis. Experienced cyclists can discover the region on their bikes!
The Véloroute Gourmande
The Véloroute Gourmande links Montréal and Sherbrooke and offers 75 gourmet attractions to discover. Luggage transportation and accommodation services are available for cycloepicurean adventurers!
To learn more, visit the Véloroute Gourmande website.
Cycling loops and bicycle tourism
Looking for inspiration for your next adventure on two wheels? Tourisme Montérégie has developed cycling loops. Discover the itineraries, suggested accommodations and more information on luggage transportation on the Tourisme Montérégie website.
---

Learn more about this trail that was once dedicated to the carters who pulled the barges on the canal.

Consult the rules to follow and the behaviours to adopt for a safe visit.