Paddle sports
Chambly Canal National Historic Site
From mid-May to mid-October, enjoy a ride on a canoe, kayak or a paddleboard and surrender yourselves to the enchantment of yesteryear while navigating the canal's waters. See the bascule bridges and the locks fitted with cranking devices. Watch as the bridge begins to rotate!
Paddleboarding (SUP) is permitted on the Chambly Canal.

Check out our "Paddleboarding Safety" page before you go, and make sure you have the right equipment to have fun safely. You can paddleboarding between bridges nos. 9 and 10.
It is possible to bring your own non-motorized boat or to rent a boat.
Users are advised that the water quality of the Chambly Canal is not regularly tested. It is the responsibility of each user to use good judgment when going out on the water, and to avoid venturing out after a heavy rainfall because of possible higher concentrations of contaminants in the water from stormwater outfalls.
---
Your own non-motorized boat
It is possible to paddle throughout the summer season in your own boat. It's important to know that you must have a valid season pass in order. In addition, a lockage permit is required to pass through the locks.
Your boat must be in compliance with Transport Canada's requirements, and be equipped with all the mandatory safety equipment. Refer to the Safe Boating Guide to learn more about boat safety.
Surfing - Sailboarding - Diving
For health and safety reasons, "primary contact" activities, such as surfing, sailboarding, and underwater diving, are prohibited.
Launching your boat
The natural banks make it easy to launch canoes, kayaks and paddleboards. It is also possible to use the launching ramps along the Chambly Canal.
---
Seasonal boat sticker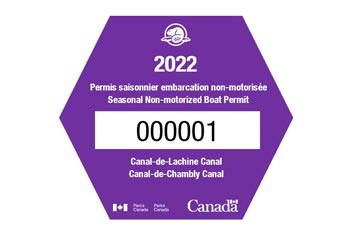 To navigate on the Chambly Canal, you must obtain a seasonal sticker. The stickers are available at locks Nos 1 and 9, during hours of operation, at a cost of $25 (excluding lockage costs). Ask a lock operator to get yours!
Note: one sticker per user, regardless of the number of non-motorized boats owned (canoe, kayak, SUP). The sticker is valid in the Chambly and Lachine canals for the entire season.
Seasonal lockage permit
It's possible to obtain your seasonal lockage permit for canoes or kayaks online.
For more information please call 450-658-4381
---
Boats rentals services
Would you like to try pleasure boating for a day?
Boat rental services are available in the vicinity of the canal entrance, near the Chambly Basin.