Cross-country skiing
La Mauricie National Park
Grab your skis and explore 80 km of trails in a protected natural area. La Mauricie National Park provides a network of marked and groomed trails for classic and freestyle cross-country skiing. A number of trails have even been specially prepared for ski skating.
Heated shelters can be found approximately every five kilometres.
The trail network is maintained from mid-December through the end of March. Weather conditions can affect the length of the season and the condition of the trails.
Entrance and activity fees are required to access the cross-country ski trails. Visitors must stop at the perception kiosk to make the purchase from their car.
Useful links
Trail suggestions
Please note that the departure of all circuits suggested below start at the Rivière-à-la-Pêche Service Centre.
Classic style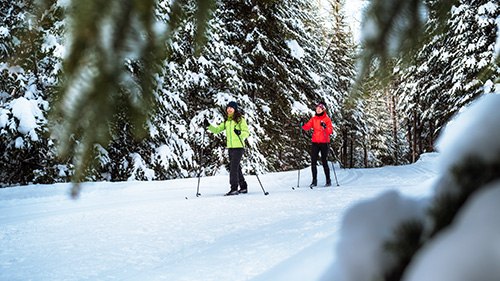 Easy level
10 km round trip: take trail #3 to the Isaïe Shelter. Take a few minutes to warm up and retrace your steps.
Intermediate level
25 km loop: along your route via trails #3, #7 and #6, you will come across four heated shelters, perfect for refuelling with a snack.
Difficult level
20 km loop: use your maximum energy to cover the 11 km of trail #2, then enjoy the ease of trail #3 that will bring you back to your starting point.
Freestyle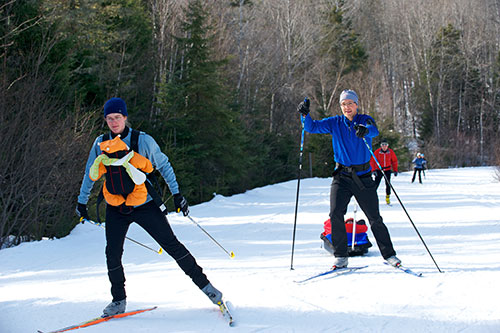 Easy level
11 km round trip: between the Rivière à la Pêche Service Centre and the Pimbina Shelter, trail #6 offers beautiful views of the Bouchard and Pimbina lakes.
Intermediate level
34 km loop: Take trail #6, stop at the Marie heated shelter, then continue along Lake Edward on trail #9 and return to the Service Centre via the Parkway (#10).
A few tips
Don't overestimate your abilities, choose a trail that matches your skills.
Don't forget to bring plenty of food and water.
The Rivière à la Pêche Service Centre is a must, whether you want to get advice or prepare your skis.
Keep a map of the trails with you so you can take stock when you stop at one of our heated shelters.
Shelters: Is the fire going out? Throw a log in the stove before you leave: the next visitors will be happy to warm up in turn.