Snowshoeing
Wood Buffalo National Park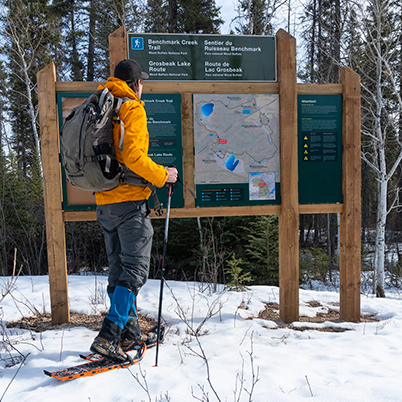 Once the snow flies, you can snowshoe on any of the park's trails or unplowed roads.
Top Spots
Grosbeak Lake Loop of Benchmark Creek Trail
(2.4 km return)
Kettle Point Road to scenic Pine Lake
(approximately 5.3 km return)
Parsons Lake Road toward the Salt Plains
(varying distances)
Warm up in Dëldël Kuę́ Day-Use Shelter
After your snowshoe, warm up in Dëldël Kuę́ at the Salt River Day Use Area! The shelter has a wood stove, tables and firewood. Bring an axe, matches, some fire starter, and your snacks.
Some things to keep in mind:
Heated washrooms and running water are available at the visitor centres in Fort Smith and Fort Chipewyan. During the winter, other park facilities are closed.
Be prepared to break trail. Trails and unplowed roads are not groomed or track-set in the winter.
Winter safety
You are responsible for your own safety. Review these Winter Safety Tips before your trip