South of town
Jasper National Park
These trails lie south of Jasper and are accessible from Highway 93 (the Icefields Parkway).
Valley of the Five Lakes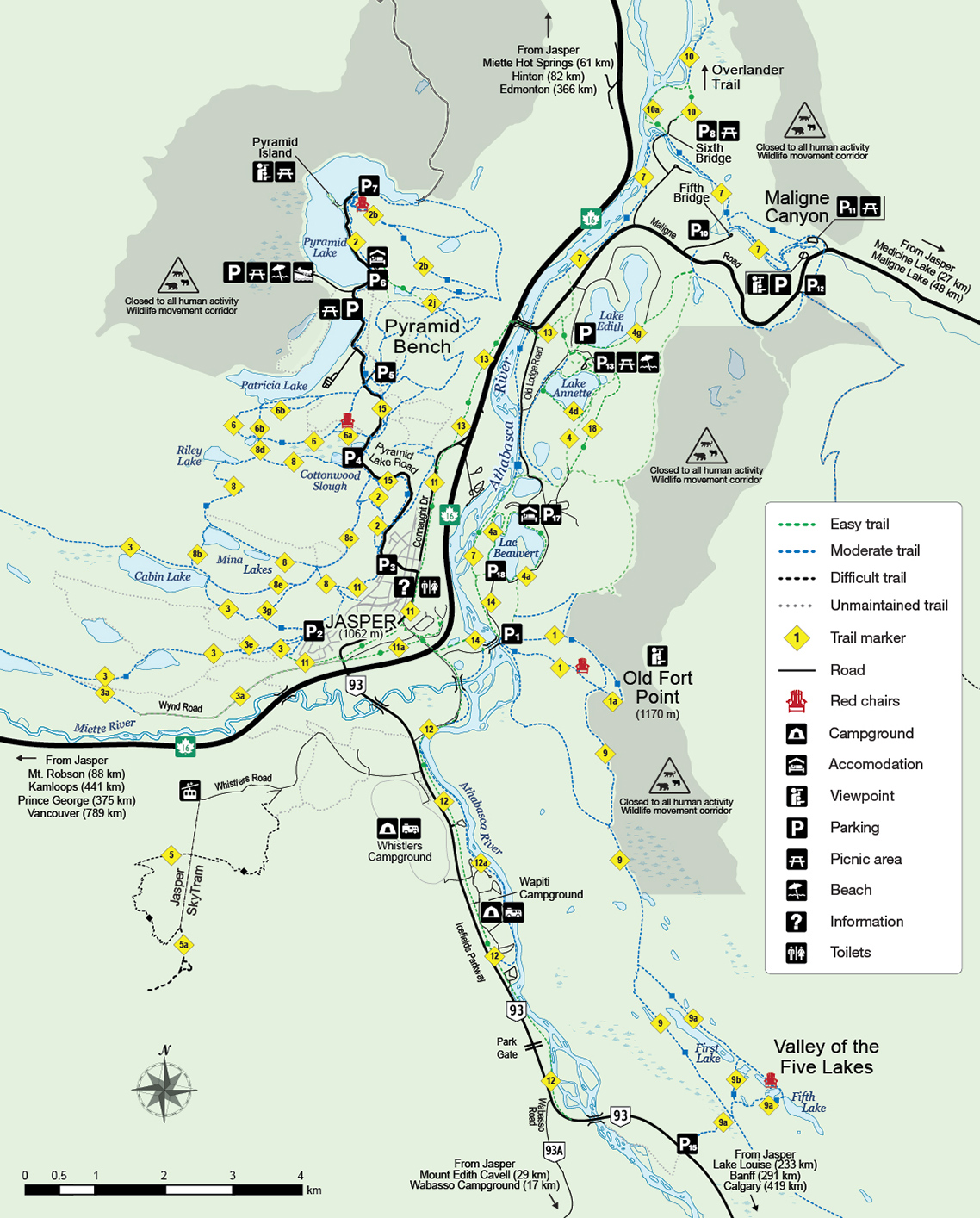 Trails 9a, 9a and 9 (moderate); 4.6 km loop; 66 m elevation gain/loss; 2 hours
Trailhead: (P15) 9 km south on Highway 93

The five small lakes are the highlights of this outing, which is a popular family hike. Trail 9a begins with an easy walk through a forest of lodge pole pine, reaching a boardwalk across the Wabasso Creek wetlands in the first kilometre. Watch for beavers. Beyond, the trail climbs across a flowery meadow to a junction. Continue on Trail 9a to reach Fifth Lake, with its small island and nesting loons. Watch for 9a markers leading left toward Fourth Lake, Third and Second, each a different depth and thus a different hue of blue green. Between Second and First lakes turn left onto Trail 9b and follow it to close the loop. Or keep going north to Old Fort Point, 10 km farther via trails 9a, 9 and 1, mostly in the woods.
Note: Trail 9 is heavily used by cyclists.
Wabasso Lake or Wabasso - Five Lakes

Trail 9 (moderate); 6.4 km return; 38 m elevation gain; 2-3 hours
Trailhead: (P16) 14.6 km south on Highway 93
This trail crosses several low ridges, with a fine view from the last ridge across the Athabasca Valley to Mt. Edith Cavell and the reddish quartzite peaks north of it. Wabasso Lake was created by beavers. You can see their long, high dam at the northeast corner of the lake.

For a longer walk, follow Trail 9 around the lakeshore and 6 km north along grassy Wabasso Creek to the junction with Trail 9a (Five Lakes). It's less than a kilometre back to the highway from here.