West and Southwest of Jasper
Jasper National Park
West of Jasper, the Miette River borders a continuation of the Pyramid Bench, with more lakes.
Virl, Dorothy and Christine lakes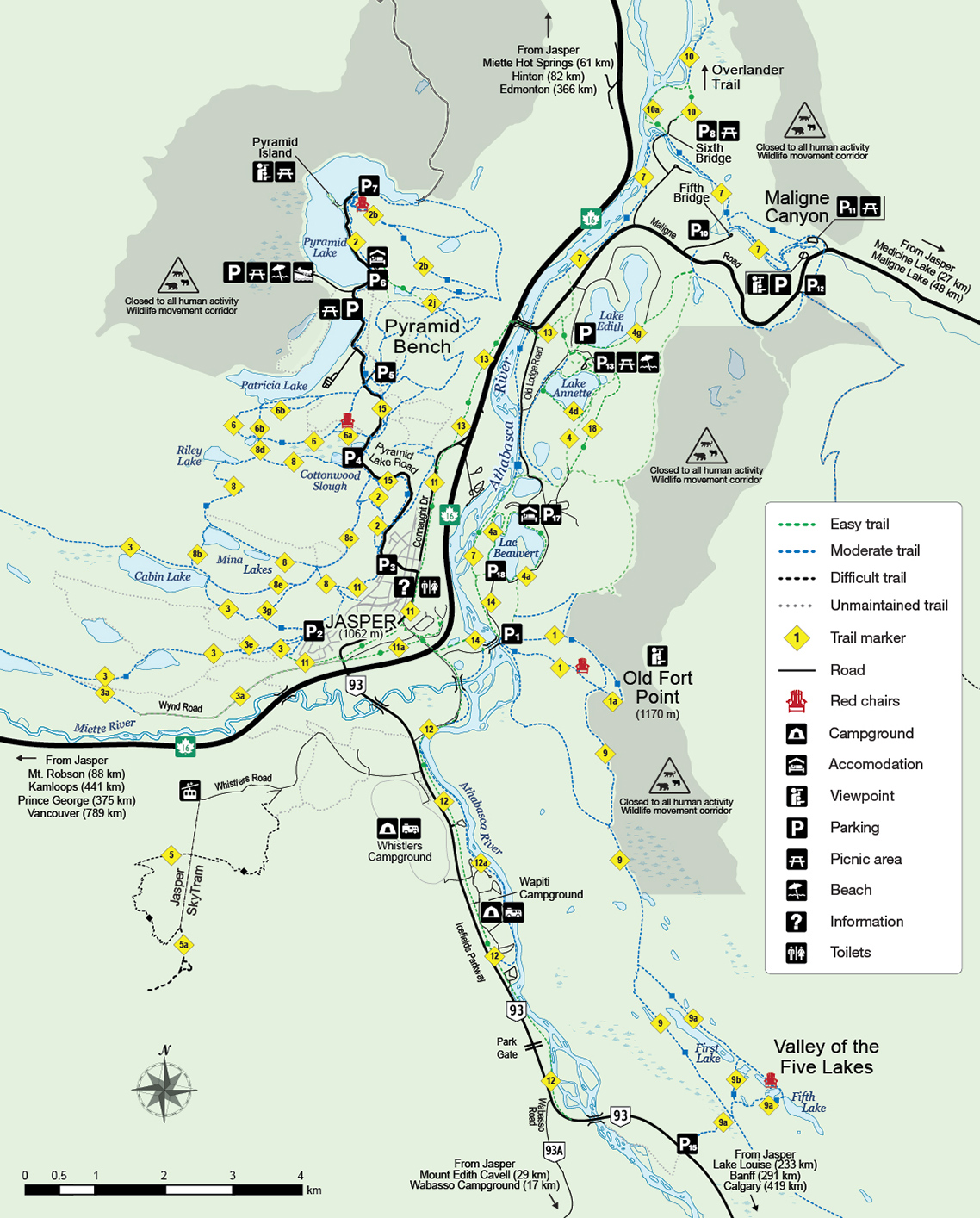 Trails 60 and 60a (moderate); 8.6 km return; elevation gain 250; 4-6 hours
Trailhead: 11.5 km west of Jasper off Highway 16.

Steep in places, with an elevation gain of 250 m, the hike to beautiful Christine Lake is well worth the effort. Start along the railway access road, crossing the tracks (careful!) to reach a bridge over the Miette River. The trail on the far side parallels the hillside for a while, then switchbacks and climbs more steeply. At km 2 the trail descends slightly to Minaga Creek, then climbs again past the junction of the backpacking route to Elysium Pass. At the next junction, Trail 3f leads to Virl Lake. Trail 3e continues 500 m to Dorothy Lake, which frames a view of Mt. Tekarra, and another 300m farther to the rocky shore of Christine Lake.
Caledonia Lake and Saturday Night Lake loop
Map A & C


Trail 3 (moderate); 4.2 km one way to Caledonia Lake; 2-3 hours or 24.6 km total loop; elevation gain 540 m; 7-9 hours
Trailhead: Cabin Creek road near the south-west end of Jasper.

A gentle uphill walk of 1.8 km brings you to Marjorie Lake, a tree-ringed water body in which the peaks south of the Miette River are often reflected. It's 2km farther to somewhat-larger Caledonia Lake, a good half-day destination and popular with local runners and cyclists. From there the grade steepens somewhat toward Minnow Lake and the rest of the Saturday Night Lake Loop, a long day-hike, a half-day bike ride or an easy overnight backpack (wilderness pass required). It's mostly in the woods, with muddy sections. On the return leg, stay on Trail 3 across the low dam on Cabin Lake.
The Whistlers trail
Map A


Trail 5 (difficult); 6.8 km one way; elevation gain 1200 m ; 3-5 hours up; 2-3 hours down
Trailhead: 1.8 km south on Highway 93, turn right onto Whistlers Road (sign for campground and tramway) and follow it 2.8 km to an unpaved access road on the left, leading a short distance to the parking lot.


This fairly steep, switch-backing trail gains 1200m of elevation, so you must be fit. The effort is well rewarded by panoramic views of the Miette Valley and Athabasca Valley, and a chance to see all three elevational life-zones in the park: montane (to the upper limit of aspen growth), subalpine (to treeline) and alpine (above treeline). Hiking just the opening kilometre or two will reward you with a rich wildflower display in July.

About one-third of the way up, the grade eases and you pass under the cables of the Jasper Tramway near its mid-point tower. Two hundred metres below the summit you pass the upper tramway terminal. From there to the top you'll have a lot of company, because the trail is used heavily by tramway passengers. In this section, staying on the trail is essential to protect the lovely alpine vegetation from trampling.

Important: the temperature will drop as you gain elevation, so pack an extra layer of clothing and a rain jacket to repel a cold high-country shower. Bring plenty of drinking water; none is available on the trail. Warning: in spring and fall, when the upper part of this trail is snow-covered, there is avalanche danger.
The Whistlers Summit trail
Map A


Trail 5a (moderate); 1.1 km one way; elevation gain 150 m, 1 hour
Trailhead: Tramway upper terminal.

Venture up for a 360-degree view of the Athabasca Valley and surrounding mountains.