Palisades Centre
Jasper National Park
The Palisades Centre is based out of the historic Palisades Ranch, located 12 km east of the Municipality of Jasper. Open year-round, we offer in-person and virtual stewardship education programs to schools and youth groups. We rent accommodation through the Parks Canada Reservation Service, and host groups for a variety of small events such as family reunions, retreats and workshops. You're only a short drive to trails and town.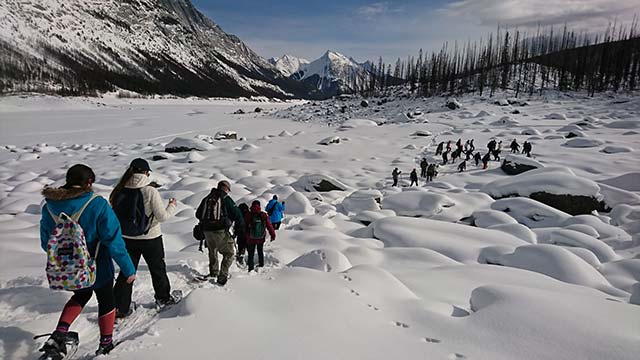 Learn about our virtual and in-person experiential education programs.
Unwind away from downtown Jasper. With 6 different accommodation types, there's something perfect for your family or group.
---
Venue details
Location and parking

The Palisades Centre is located 12 km east of the Municipality of Jasper on Yellowhead Highway 16 and Snaring Road. There is parking for up to 20 vehicles and one or two school buses. Directions to the Palisades Centre
Amenities

Accommodation options range from a private house for 8, to cabins for 2, to rustic dorms for 30 people
Towels, linens, dishes and housekeeping services
Meeting rooms
Wi-Fi in some locations
Recreation equipment provided free to school groups partaking in Parks Canada-led education programs
Tipi
Communal fire pits and firewood
Picnic tables
Stunning views in an intimate setting!
Group size

The Palisades Centre comfortably sleeps 40 adults or up to 50 youth.
General information

For the safety of both pets and wildlife, no pets are permitted.
Cell phone service is available in some locations depending upon your service provider. Landlines are provided in most buildings.
Wi-Fi is available in some locations.
How to reach us

Email: centrepalisades@pc.gc.ca
Phone: 780-852-6192
---
Videos