Community Update: Scotts Mills Dam Replacement
Trent-Severn Waterway National Historic Site
November 13, 2020 – The project to replace the Scotts Mills Dam, at Lock 19 in Peterborough, has reached an important milestone: two sluices have been fully replaced.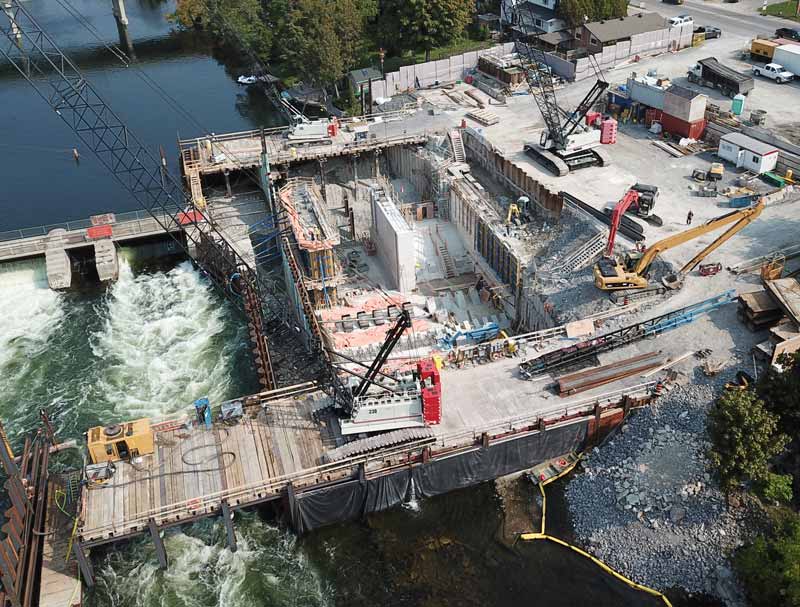 Contractors will now move on to the next phase of the project, which will see the construction of another sluice, with the objective of having these three new sluices in operation for the spring melt.

In a continued effort to expedite work and reduce the length of the project, preparation for subsequent phases has been concurrent with construction of the new dam. This preparation includes the ongoing construction of cofferdams - temporary dams constructed across or within a body of water that allow an enclosed work-site to be pumped dry. Cofferdams are made of many types of materials, in many styles. The structure of the cofferdams at Scotts Mills has primarily been circular piles with sheet steel. A shift in recent months to H-piles has sought to reduce the number of drives required on each pile, in an effort to reduce both noise and time.

Construction of the new dam is expected to be completed in spring 2022, with restoration to follow that summer.

Background
The Scotts Mills Dam at Lock 19 plays an important role in the City of Peterborough, and is an integral part of the Trent-Severn system. The Scotts Mills Dam is one link in a chain of dams across Ontario that help Parks Canada to manage water, achieving a variety of objectives including navigation, the mitigation of flooding, and the protection of the environment. Within Peterborough, the dam helps to regulate upstream and downstream water levels, including Little Lake. A role of this dam and others is significant on the function of the Trent-Severn Waterway system and consequently the waterside economy of Peterborough, and the quality of life that Peterborough citizens enjoy.
Engineering inspections in recent years identified the declining condition of the Scotts Mills Dam and it was determined to require a full replacement. The new dam will respect the historic look of the site and will have a life expectancy of more than 80 years. The new dam will optimize hydraulic capacity, increase the safety of water management operations, and be constructed in a way that allows improved access for maintenance activities. In addition, the project will be the first step in creating a more public friendly lock site, with pedestrian access onto the dam itself restored.
More Information:
Information about this project will be shared digitally. To receive project updates via e-mail, please contact us at:
pc.lhnvoienavigabletrentsevern-trentsevernwaterwaynhs.pc@canada.ca
For more information about the Parks Canada infrastructure projects, please visit
www.pc.gc.ca/tswInfrastructure
.