Community Update: Warsaw Road Swing Bridge Construction Update Trent
Trent-Severn Waterway National Historic Site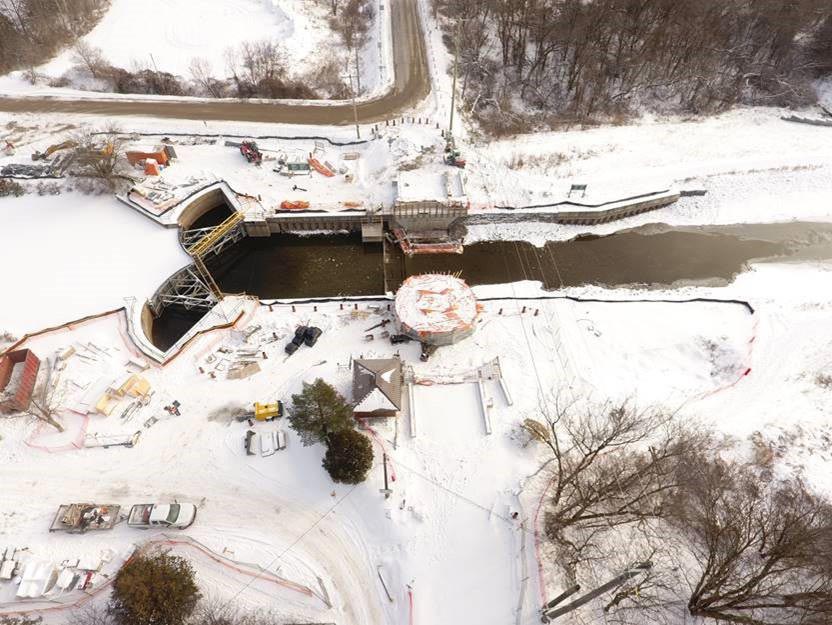 February 12, 2021 – Construction is underway and progressing well at Parks Canada's project to replace the Warsaw Road Swing Bridge, on Parkhill Road East (between Armour Road and Television Road).

Construction work at the site includes an in-kind replacement of the bridge structure, which will bring the bridge up to a full highway load rating. The project also includes the replacement of mechanical and electrical operating systems. The Contractor has substantially completed all concrete work in the contract, including the rehabilitation of the centre pier that supports the bridge span, and re-facing of the concrete abutments and wing wall. Preparations are underway for the start of the delivery of components for the superstructure. Parks Canada has also approved additional concrete work on the face of the abutment that is not expected to impact the overall schedule, but will improve the overall lifespan of the asset.

Vehicular use of the bridge is on-schedule to be reinstated in the spring of this year, with landscaping work to follow.

Engineering inspections in recent years have indicated that this bridge is nearing the end of its useful life. Parks Canada is leading this important infrastructure work along the Trent-Severn Waterway National Historic Site to ensure safe, high-quality experiences for visitors by improving heritage, visitor, waterway, and highway assets located within national historic sites, national parks, and national marine conservation areas.

To ask questions or register to receive updates about any Trent-Severn Waterway construction project, please contact us at pc.TrentSevern.pc@pc.gc.ca and include the project name in the subject heading. More information about construction work along the Trent-Severn Waterway can be found at www.pc.gc.ca/tswInfrastructure.