Visit a lockstation
Trent-Severn Waterway National Historic Site
The historic locks are like no other places in Canada. Built over a century ago and still in operation today, most of them use original techniques to move huge amounts of water and facilitate travel for boaters and paddlers. Once buzzing with the sights and sounds of industry, today the locks now bustle with the enjoyment of recreational tourism. Whether visiting by land or water, there are many reasons to come and experience this unique part of our history.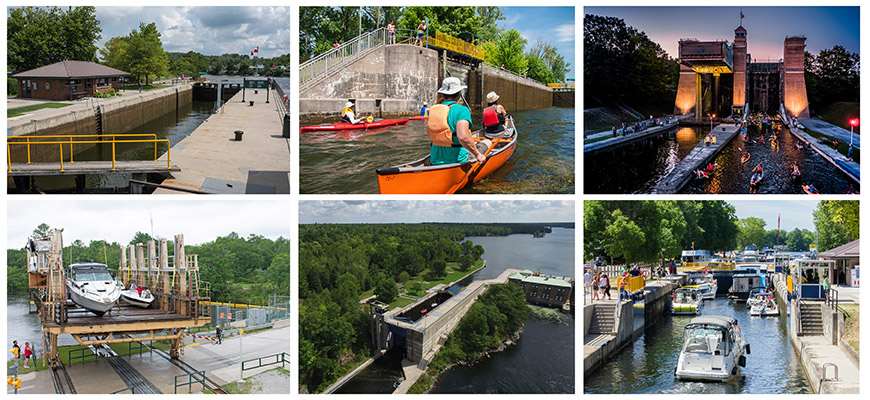 What is a lockstation?
Each lock on the Trent-Severn Waterway is part of a system constructed between 1833 and 1920. Locks were built to overcome differences in water elevation in the creation of a navigable route. Once a waterway of industry, today recreational boaters and paddlers come from around the world to travel the waterway with their friends and family.
Lockstations are maintained and operated at the lock by Parks Canada during hours of operation, and provide travellers with the necessary facilities and services to plan a trip of any length. Most lockstations will have:
Lock chamber(s) operated by Parks Canada
Lockstation building with washrooms
Green spaces and picnic tables
Mooring areas and vehicle parking
Campsites and/or overnight accommodations
Where are they?
Parks Canada lockstations can be found in various regions along the system connecting Lake Ontario and Lake Huron (Georgian Bay). Some of the locks can only be accessed by boating or paddling on the waterway system, but most lockstations can be accessed from major roads and highways. Remember to look for the Parks Canada beaver symbol!
Suggested pages:
Why visit?
Boaters and paddlers travel the Trent-Severn Waterway to experience a historic Canadian tradition a century in the making. Some pass through the locks on the way to the cottage, while others are heading to the next fishing spot. Lockstations make great picnic stops on a family roadtrip, hopping out to get some fresh air and watch the boats go through. History buffs enjoy walking the sites snapping photos of the historic engineering and speaking to lock staff about these special places. Everyone has a different reason to visit the locks and everyone is welcome!
You might like:
---
Trent-Severn checklist
Each lockstation has its own chapter in the story of the Trent-Severn Waterway. With 42 individual lockstations on the system, you'll have fun checking them all off your list.