The Land
Vuntut National Park
Vuntut National Park is bounded by the height of land and Ivvavik National Park to the north, the international boundary and the Arctic National Wildlife Refuge to the west, Black Fox Creek to the east and the Old Crow River to the south.
Van Tat - Old Crow Flats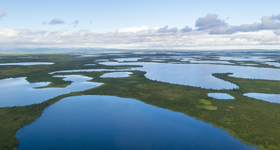 A vast wetland complex of shallow lakes and small streams dominates the southern third of Vuntut National Park. This network is the northern extent of Van Tat - the Old Crow Flats - a significant area both ecologically and culturally.
In 1982, the Old Crow Flats were designated under the Ramsar Convention as a wetland of international importance. Half a million birds use the flats each year as a place to breed, moult and/or stage before starting their fall migrations. Muskrats are also plentiful, inhabiting the numerous shallow lakes and ponds found throughout the flats. In addition, the area maintains healthy populations of moose, black and grizzly bears, marten, wolverine, lynx, foxes, and wolves. The flats are also part of the annual range of the Porcupine Caribou Herd.
British Mountains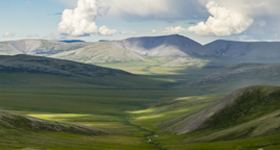 The northern two thirds of the park is made up of the rolling hills and peaks of the British Mountains. Here, sparse spruce forests and shrub stands are found in the valley bottoms and the southern-most slopes, while rocky tundra dominates higher elevations and grassy tundra is present in the broad, wet, gently sloping valleys.
Caribou are common in this terrain during the annual migrations to and from their calving grounds. Large predators such as grizzly bears, wolves and wolverines often follow them closely. Muskox are also becoming more common in this tundra environment.