Water safety
Prince Edward Island National Park
Whether you're new to the ocean or a pro, always be aware of the hazards in this quickly changing environment. Know your limits. Respect the water.
The north shore is a dynamic environment impacted by changes in wind direction and speed, transforming a tranquil lap of waves into an energetic surf. We encourage all swimmers to use supervised swimming areas and check surf conditions daily.
Check out our Swimming & Beach Activities page for beach locations and information.
Rip Currents
Rip currents are powerful, fast-moving seaward currents that can pull even the strongest swimmers out to sea. They form when the energy from surf gets caught between the beach and offshore sandbars.
Be safe: Know how to swim, never swim alone, and when in doubt, don't go out.
Break the Grip of the Rip. If you become caught in a rip current:
Don't fight the current

Swim out of the current, then to shore
If you can't escape, float or tread water
If you need help, call or wave for assistance
Please note that floatable devices are not encouraged due to strong offshore winds and are not allowed in supervised swimming areas.
Watch Rip Currents: The Hidden Danger.
Beach flags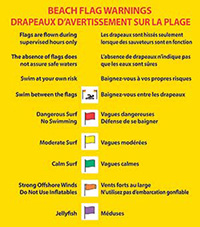 PEI National Park's supervised beaches now use the international beach flag warning system:
Green: Calm surf
Yellow: Moderate surf/rip currents present
Red: Dangerous surf
Purple: Jellyfish present.
Orange: Strong offshore winds/inflatables not permitted
Flags are flown during supervised hours only. The absence of flags does not assure safe waters.
Safety tips
When in doubt, don't go out!
Swim at a supervised beach and in the supervised area (between the flags).
Never swim alone.
Observe surf conditions and follow surfguard advice.
If surf is present, beware of rip currents.
Tides
Twice daily, the shores of Prince Edward Island National Park become wide, and then narrow again, because of the tides.
Tides within Prince Edward Island National Park range from a few centimeters to over two meters. Low tide is the best time of day to explore. But be aware and watch the rising tide along the cliffs to ensure that you can safely return the way you came.
Pay particular attention at Robinson's Island and Covehead Bay where narrow channels can create strong outflow currents, especially as tides change.
Water Quality
Small outflow streams that you encounter along the shoreline carry water from hundreds of kilometers of streams. Avoid having children play in them as the water may contain elevated bacteria levels. Signage is put in place weekly if water tests show high levels of bacteria.
Watercraft
Motorized vessels are not permitted within National Park water bodies and for visitor safety boats should remain 200 meters from all designated swimming areas. If encountering swimmers outside of these areas, boaters are asked to please slow down to 10 km/hr and stay well clear of them.
Observe Piping Plover closure signs and do not beach your boat in these areas. Move down shore to an area not posted.
Whether enjoying the water by kayaking, kite surfing or paddle boarding, before heading out ensure that you are equipped and trained and be prepared for quickly changing weather & surf conditions.
Bridge Jumping
If you are thinking it might be fun to jump off Covehead bridge, think twice! Diving and/or jumping from the Covehead Bridge is a prohibited activity, pursuant to Section 7 (1) of the National Parks General Regulations. Bridge jumping is dangerous for many reasons, including:
Unknown objects lurking below the surface of the water;
Ever-changing water conditions and depths; and
Slippery conditions climbing to the diving point;
Heavy boat traffic.
Anyone found contravening the regulation may be prosecuted under Section 7(4)(a) of the General Regulations. The minimum fine is $175.