Canoeing
Nahanni National Park Reserve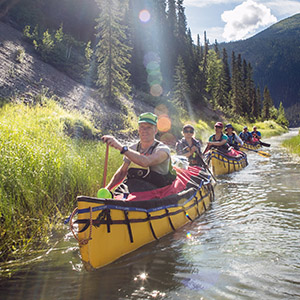 Canoers on river
The South Nahanni is a big river with powerful currents, boils and challenging whitewater. The South Nahanni River is navigable from June to September.
We highly recommend that all non-guided visitors who plan to travel on rivers in Nahanni National Park Reserve have:

1) highly developed whitewater paddling and/or rafting skills, with multiple years of experience;

2) well-practiced and highly developed self-rescue skills;

3) extensive experience travelling and camping in a remote, wilderness environment.
If you do not meet all three criteria, we strongly recommend that you travel with a park-licensed outfitting/guiding company or obtain the necessary skills and experience before visiting.
Reservations are required for river trips in Nahanni. It is recommended that they be made well in advance due to popular demand. Registration through the park office is required prior to entering the park for a river trip. De-registration is mandatory upon your safe return.
People typically begin their river trips at one of the two designated landing areas within the park - Virginia Falls or Rabbitkettle Lake. A river trip from Virginia Falls will take 7-10 days, while a river trip from Rabbitkettle Lake will take 10-14 days.
From Rabbitkettle Lake to Virginia Falls, a distance of 118 km, the river meanders through a broad valley. There are no rapids on this section which has a mean gradient of 0.7 m/km.
At Virginia Falls, the river plunges into the first of four great canyons. The 147 km section from Virginia Falls to Kraus Hot Springs has a number of rapids up to Class III in difficulty. The mean gradient is 1.7 m/km. Splash covers are necessary for this section, particularly in Canyon Rapids, Figure 8 Rapids and George's Riffle. Downstream from Kraus Hot Springs the gradient decreases to 1.1 m/km and the river branches into numerous channels known as The Splits. There are no rapids in this section. From Kraus Hotsprings it is about 35 km to the park boundary.
Another 30 km brings you to Nahanni Butte where the South Nahanni flows into the Liard River. The Liard, from Nahanni Butte to its confluence with the MacKenzie River at Fort Simpson, is navigable. Beaver Dam Rapids are rated Class III - Class II.
---
The Moose Ponds
The Moose Ponds are the headwaters of the South Nahanni River, and the starting point for the 50 km of virtually continuous Class II - Class IV whitewater (difficulty of rapids is highly dependent on current water levels). This stretch of river is known locally as the Rock Gardens. Expert paddling skill is required, and paddlers should allow 5-7 days to reach Rabbitkettle Lake. Those people starting their trip after August 1st may find it necessary to line or portage some (if not all) sections of the Rock Gardens due to low water levels.
Island Lakes
Situated about halfway between the Mooseponds and Rabbitkettle Lake, Island Lakes offers an alternate starting point. It will take approximately 3-4 days to reach Rabbitkettle Lake, although you may want to allow extra time for hiking. From Island Lakes, it is possible to access on foot Glacier Lake and the spectacular Cirque-of-the-Unclimbables. The river is generally flat, with a few Class II rapids depending on water levels.
The Little Nahanni River
Accessible from Tungsten, the Little Nahanni River offers experienced whitewater canoeists an exhilarating 90 km trip of Class II - Class IV rapids before joining the South Nahanni River between the Rock Gardens and Island Lakes. Allow 6-7 days to reach Rabbitkettle Lake. This river may not be navigable after mid-July due to low water levels.
Glacier Lake / Cirque-of-the-Unclimbables
Many travellers enquire about the possibility of flying in to Glacier Lake and then portaging out to the South Nahanni River after hiking to the Cirque-of-the-Unclimbables. While there is a faint trail from Glacier Lake to the South Nahanni River, it is a demanding hike through thick forest. It is not advisable to attempt to portage canoes and heavy gear along this route. Refer to the section on hiking for more information about this area.
Seaplane Lake / Flat River
Seaplane Lake, located approximately 20 kilometres upstream of the park boundary, is the main landing site for people wishing to paddle the Flat River. The Flat River provides an interesting variation on a trip to Nahanni National Park Reserve, and contains considerable amounts of whitewater ranging from Class II - Class V. The Cascade-of-the-Thirteen-Steps is one particular rapid that presents a considerable obstacle. A portage exists on the left side of the river, and canoeists should use extreme caution when approaching this location. The portage sign may be washed out due to random flood events. Paddlers should allow 4-5 days to travel from Seaplane Lake to the confluence with the South Nahanni River.
For more information on the Flat River, please refer to the Flat River Touring Guide, which is available from the park office at a cost of $5.00 CDN.
Rating River Difficulty
River difficulty is rated using the six-part International River Classification System. Individual rapids are rated by class, ranging from Class I to Class VI. Where two ratings are indicated for a specific rapid, the first rating applies to high water conditions and the second to medium-low water.