Biking
Mount Revelstoke National Park
Climb to the subalpine on a world-class road biking route. Explore cool rainforest trails on a hot summer day. Cheer on your kids as they conquer features in the bike park. Biking Mount Revelstoke National Park is for everyone!
---
---
Road biking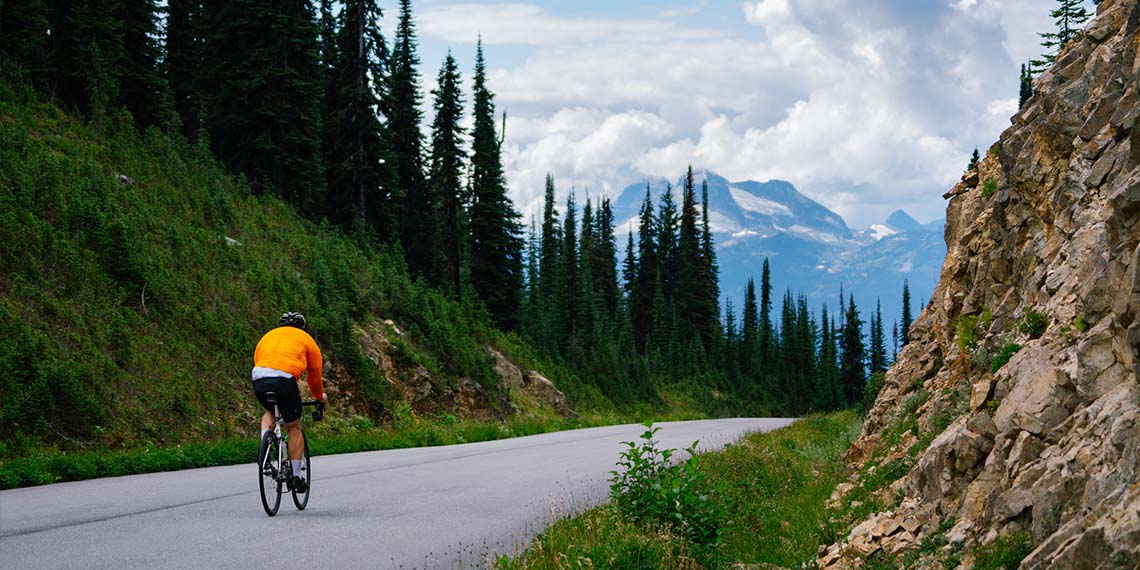 Wind your way up the Meadows in the Sky Parkway, a paved route that climbs 1,400 m to Mount Revelstoke's 2,000 m summit. With a 5.5 percent average grade over 26 km, the parkway offers 7 roadside lookouts, giving you the opportunity to catch your breath and take in panoramic views of the Monashee and Selkirk mountains.
Your journey begins in the world's only inland temperate rainforest, passes through old-growth stands of cedar and hemlock, and culminates in stunning wildflower meadows—from the glacier lilies and marsh marigolds of early summer to the red paintbrush, yellow arnica and purple lupine that leave the fields awash in colour by August.
Ride early or late in the day to enjoy a fast, smooth descent. You'll make the most of the sweeping switchbacks by avoiding the majority of vehicle traffic. Remember to watch out for wildlife, including bears and amphibians; both frequently cross the parkway.
---
Mountain biking trails
Mountain biking is allowed only on trails designated for cycling. If a trail is not signed for cycling, you're not allowed to ride it.
Mount Revelstoke National Park has mountain biking trails for the whole family, with just a 5 minute drive from Revelstoke or a 10 minute ride up the Mount Revelstoke multi-use trail, starting from the Revelstoke Railway Museum. After you've worked up an appetite, this trail takes you right back to Revelstoke's downtown cafes!
The base of Mount Revelstoke offers 9 km of intermediate mountain bike trails near the Nels Nelsen Historic Area. Short climbs and descents offer a chance to explore the site, known as one of the finest natural ski jumps in the world and the home of several sporting world records.
The Soren Sorensen loops present a 2km and 5km option for different levels of endurance. These wide doubletrack trails have a mixture of technical climbing and descending among boardwalks, streams, moss-covered boulders and lush rainforest scenery.
Extend your ride by taking the 23 Connector trail on the way up or down, an extra 2.2 km which connects the Nels Nelsen area with Highway 23 North.
---
Beaver Lodge Kids' Bike Park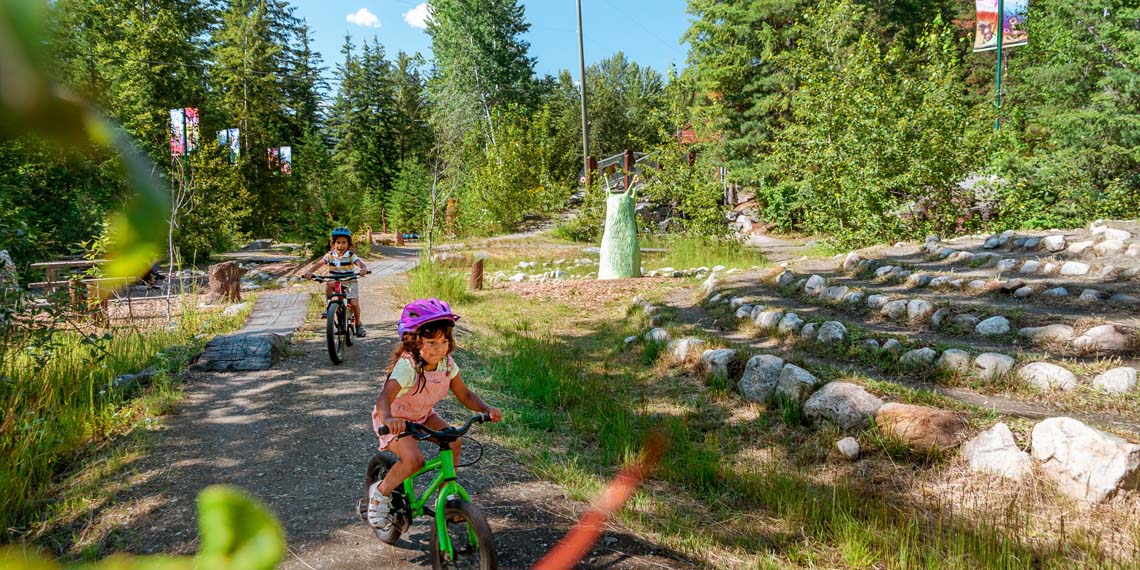 The new Beaver Lodge Kids Bike Park is also located at the Nels Nelsen area. This children's interpretive bike park and creative playscape is designed for families with children from 1 ½ years and up.
Visitors can develop bike skills, play, and learn about the park in a fun and active way. Explore interactive sculptures and features like the dragonfly teeter totter, animal overpass and the giant snail! Picnic tables and the iconic Parks Canada red chairs are available at the bike park, and washroom facilities are located a few metres away in the Nels Nelsen parking lot.