Geocaching
Mount Revelstoke National Park
Awaken your inner treasure hunter and join the 21st century scavenger hunt! Use your GPS to uncover a series of geocaches hidden throughout the nooks and crannies of the Mount Revelstoke National Park.
Geocaching is an interactive treasure hunt played with a GPS unit. The park is pleased to offer eight geocaches on the Soren Sorensen 2km and 5km loop trails that willl be fun for many ages and abilities. The hunt may take you to places you have never been and will help you notice things you might have otherwise walked right past! Complete your passport and receive one of the limited edition geocoins.
The park's geocaching program is different from what you find geocaching in other areas. The program is more of a self-guided interpretation experience that provides you with an opportunity to learn about the unique natural and cultural heritage of the national park. "Leave no Trace" is the motto when it comes to the national parks, and geocachers are asked not to place their own caches in the park without talking to Parks Canada first.
Obtain all the co-ordinates for the geocaches from geocaching.com. If you're not sure how to geocache, this Geocaching.com webpage has everything you need to know.


Use either a GPS device or a smartphone to find the caches (you may need to download a geocaching app if using a smartphone).


Respect the natural surroundings by staying on marked trails – all geocaches in the park are directly accessible from trails or public areas. Please ensure that natural and cultural resources are not disturbed.


Please do not take or leave trade items inside of the geocaches as they may attract wildlife.


Geocaches are available May - November, however access may vary due to weather conditions. Use caution.


Interested in placing your own geocache in the park? Contact us for more information.
Geocaching challenge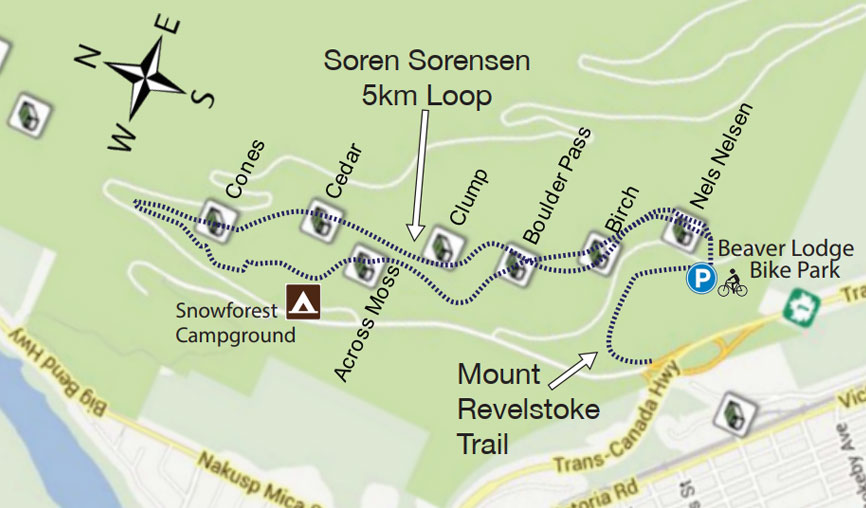 The Soren Sorensen trails at the base of Mount Revelstoke are a great place to start your geocaching adventure!
Your mission
Find 5 or more geocaches along the Soren Sorensen 5km loop trail and collect a limited edition Mount Revelstoke National Park geocoin. Each cache includes a story about the park and fun shaped paper punch.
Instructions
Print off a Geocaching Passport booklet and download the geocache co-ordinates from geocaching.com.
When you find a geocache: sign the logbook, answer the skill-testing question and hole-punch the booklet. Make sure to put the cache back where you found it for the next cachers.
Once you have found 5 (or more) geocaches, bring your booklet into the Revelstoke Parks Canada Office or mail it in to receive your geocoin!