Winter activities
Mount Revelstoke National Park
A blanket of snow settles on Mount Revelstoke National Park by mid-November annually, making it a great destination for a variety of winter recreation options. Most winter trails are on the lower slopes of Mount Revelstoke.
Access by vehicle: Just east of Revelstoke on the Trans-Canada Highway, take the Mount Revelstoke National Park/Meadows in the Sky Parkway exit. Parking is available at the Nels Nelsen Historic Area or at the Mount Revelstoke Welcome Kiosk (plowing ends here) 5 km from downtown Revelstoke.
Access on foot or by bike: From downtown Revelstoke, take the Mount Revelstoke Trail 1.3 km uphill into the park. Trailhead is at the Tournament of Champions behind the Revelstoke Railway Museum.
View the Trail conditions report View winter trail map
Dogs are not allowed above Columbia Viewpoint (12 km) on the Meadows in the Sky Parkway, which includes the summit area and backcountry of Mount Revelstoke National Park.. In all other areas of the park, they must be on a leash at all times
Giant Cedars and Skunk Cabbage day use areas are inaccessible during the winter due to very heavy snowpack and are not suitable for snowshoeing.
---
Avalanche Information
Mount Revelstoke National Park is in avalanche country. Check Avalanche Canada for the North Columbia forecast. Winter travelers must be knowledgeable of avalanche terrain and have self-rescue capability and appropriate training to ensure their own safety.
The lower area of the Meadows in the Sky Parkway is rated as simple avalanche terrain, and visitors should be alert for snow slumping from rock-cuts along the roadway.
Please note that the Nels Nelsen Ski Jump itself is an avalanche area and is not open to the public in winter.
---
Snowshoeing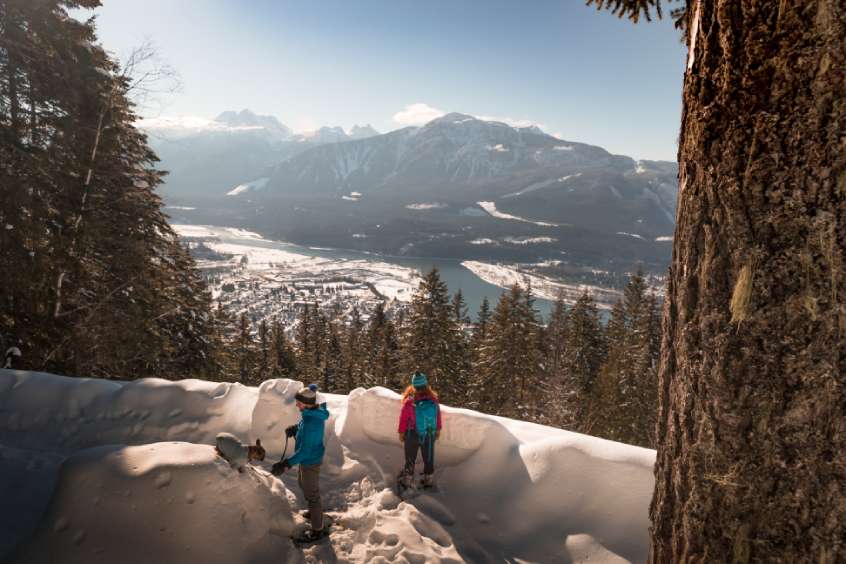 The Columbia Mountains are known for legendary volumes of snow. Strap on a pair of snowshoes and enjoy the following trails on lower Mount Revelstoke. There is something for all fitness and experience levels.
Snowshoe-friendly trails
Mount Revelstoke

(connector trail to Revelstoke townsite)

23 Connector

Soren Sorensen 2 km and 5 km loops

Meadows in the Sky Parkway up to Monashee Viewpoint

(closed to vehicle traffic during winter)

Inspiration Woods

Summit

(not recommended beyond Monashee Viewpoint)
---
Fat biking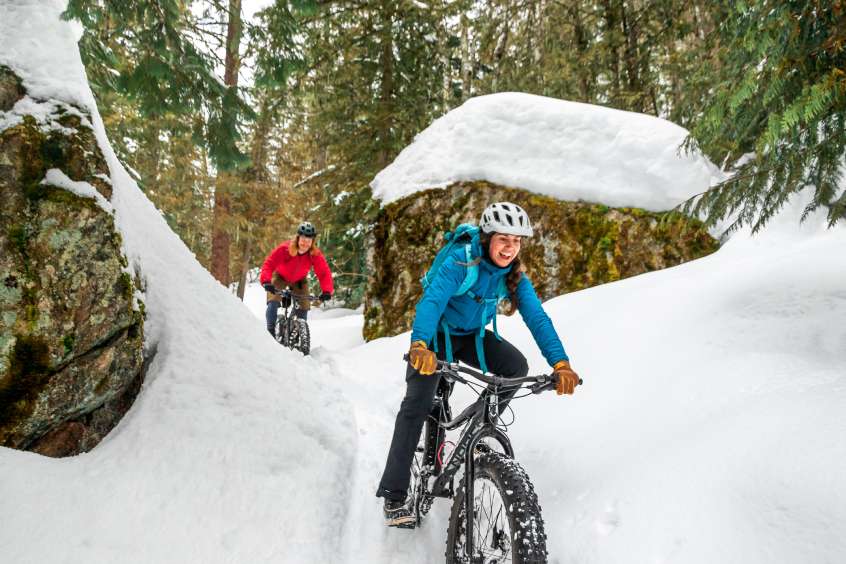 Hop on a fat bike and embrace the local cycling culture during winter. There is no trail grooming in the park, but fat bikes are allowed on the following trails:
Mount Revelstoke

(connector trail to Revelstoke townsite)

23 Connector

Meadows in the Sky Parkway

to Monashee Viewpoint. The parkway is closed to vehicle traffic during winter.

Soren Sorensen 2 km and 5 km loops
---
Nordic skiing
Nordic skiing is permitted on the Meadows in the Sky Parkway which is closed to vehicle traffic during the winter but it is not a groomed trail. Groomed cross-country ski trails exist elsewhere near the community of Revelstoke.
---
Ski touring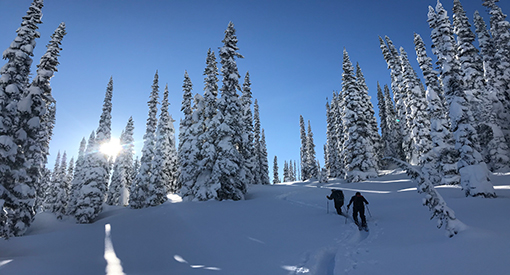 The mountainous terrain and heavy snowfall in the park create ski touring opportunities at higher elevations, but terrain suitable for ski touring is very remote and requires the skills, experience and fitness level necessary for long distance travel in avalanche terrain. Overnight use is only not permitted in designated backcountry areas and requires a backcountry permit. See winter camping information below
---
Winter backcountry camping (November 1 - April 30)
Winter backcountry camping is only allowed more than five kilometres from the Trans-Canada Highway and Highway 23N. Special conditions apply.
Winter Random Camping Map (PDF, 4MB)
Winter backcountry camping requires:
A backcountry permit
A national park pass
To travel in the backcountry in winter you should:
Understand the risks of backcountry recreation, how to travel in avalanche terrain and how to practice self-rescue techniques.
Have an avalanche transceiver, shovel, and probe for every member of the group.
Check today's Avalanche Bulletin to determine the current conditions.
Carefully plan your route using online resources, maps, guidebooks and information from Parks Canada.
Backcountry permits can only be obtained by phone at 250-837-7500 or at the Rogers Pass Discovery Centre in Glacier National Park. We cannot guarantee same day service and recommend getting your permit in advance. Plan ahead to avoid disappointment.
There is no winter frontcountry camping in Mount Revelstoke National Park and sleeping in vehicles in parking areas is prohibited.
---
Winter Driving
In winter, Mount Revelstoke National Park can be accessed by vehicle to the Nels Nelsen parking area and to the gate by the Welcome Kiosk on the Meadows in the Sky Parkway. It is plowed as a secondary road as and when possible following significant snowfall.
Plan ahead with DriveBC
Check the weather forecast and driving conditions before you hit the road. The most up to date information on road conditions, closures, and delays is available on drivebc.ca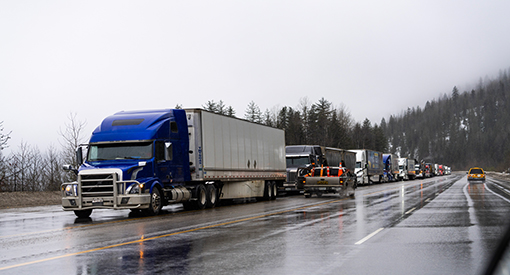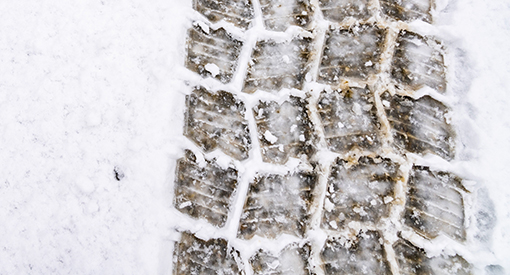 Be prepared for highway closures
When conditions warrant, Parks Canada and the Canadian Armed Forces will close the highway to perform avalanche control. Closures can last from 2 to 8 hours or longer depending on avalanche hazard, road conditions, weather, and traffic volumes. For safety and to ensure travellers have access to services, traffic will be held in Revelstoke and Golden when longer closures are required. Let someone know your travel plans, keep your gas tank full, and always keep a safety kit in your vehicle in case of extended closures or mechanical failure. This should include water, food, candles, extra clothing and blankets.
Snow tires required for winter
Rapid changes in elevation and weather can make highway conditions unpredictable during the winter. You may start a trip in sunshine but face stretches of slush, ice, heavy snowfall or compact snow along the way. Tires with a mountain and snowflake or M+S rating are required from October 1 to March 31. Parks Canada and British Columbia's Ministry of Transportation and Infrastructure recommend winter tires with a mountain and snowflake symbol as they provide superior traction in ice and snow. Learn more about winter tires.