Recommended showshoeing and winter walking trails in the Lake Louise area
Banff National Park
Note: Not all sign-posted summer destinations are safe for winter travel. If you plan to travel beyond the designated winter destinations described below, your group should be prepared with the appropriate knowledge, skills and equipment.
Winter safety

Safety is your responsibility. There are always hazards associated with outdoor recreation. Even short trips can have serious consequences.

Ask for advice at a Parks Canada Visitor Centre for help with trip planning.
Check current trail conditions, warnings and closures.
Study descriptions and maps before heading out. Always choose a trail suitable for the least experienced member in your group.
Tell somebody where you are going, when you will be back and who to call if you do not return.
Expect that trail conditions and winter hazards may change throughout the day. Consult weather forecasts and be prepared for changing weather and emergencies.
Winter hazards include avalanches, disorientation, thin ice, hypothermia and frostbite.
From November to March, make sure your car is winterized. Snow tires, proper clothing, and an emergency kit are recommended. Visit 511.alberta.ca for road reports.
In case of EMERGENCY, call 911 or satellite phone: 403-762-4506. Cell phone coverage is not reliable throughout the national park.

Recommended packing list

Trail guide and map: guidebooks and topographic maps are available at the Banff and Lake Louise visitor centres, and retail outlets in Banff and Lake Louise.
Full water bottle or thermos
High energy food
Bear spray
First aid kit and repair kit
Lightweight emergency blanket, candle and lighter or waterproof matches
Headlamp or flashlight with spare batteries
Toque or winter hat and gloves
Sunscreen and sunglasses
Hand and toe warmers
Extra warm clothing in case of an emergency
Cell phone or satellite communication device

Visit parksmountainsafety.ca for additional information on winter packing.

Wildlife

Although bears are denning during the winter, they can awaken at any time for short periods. Cougars, wolves and other wildlife remain active throughout the year. If you see wildlife, do not approach; give them lots of space and observe from a distance with binoculars or a telephoto lens. If tracks are observed, do not follow them towards the animal.

Be alert, make noise and carry bear spray. Learn more about keeping yourself safe.
Avalanche safety at Lake Louise

Avalanche season in the mountains extends from November to June, and even a short walk can take you into avalanche terrain. Trails with a known hazard are identified with an avalanche symbol. When travelling beyond marked trails, or past an avalanche danger sign, assume you are in avalanche country – never enter avalanche terrain without a beacon, probe, shovel and avalanche training.

Check the current avalanche forecast at a Parks Canada Visitor Centre or avalanche.ca

Stop here

If you see this sign, you are about to enter avalanche terrain.

Avalanches are possible from November until June and you could be buried or injured.

Do not proceed unless you have avalanche training and a transceiver, probe and shovel.

There are often tracks beyond these signs left by equipped parties – this does not indicate that the trail is safe. You don't know how informed previous travellers were or what the conditions may have been at the time.

Your safety is your responsibility.

Avalanche zones at Lake Louise

Mount Fairview

Left side of Lake Louise
November to June annually

Watch for this avalanche zone on Mt. Fairview on the left side of Lake Louise past the boat house. It may also be accessed beyond the Fairview Lookout.

This is an impressive natural feature but please enjoy it from afar.

For your safety and the safety of others, do not stand under this slide path or walk across it. Keep in mind that tracks left by others do not mean that the area is safe.

Teahouse trails

Avalanche hazards on the "Teahouse" Trails at Lake Louise

Plain of Six Glaciers and Lake Agnes including Mirror Lake
November to June annually

These very popular summer hikes are not safe for travel in the winter unless you have avalanche training and equipment.

The avalanche zones on both trails are clearly marked. Keep in mind that tracks left by others do not mean that the trail is safe.

Note: The teahouses are closed in winter. When trails begin to clear in May check the trail report for current conditions. Your safety is your responsibility.

Saddleback Pass

Trail to Saddleback Pass
November to June annually

This trail climbs the southeast flank of Mount Fairview and crosses a prominent avalanche slide path along the way. The avalanche zone is clearly marked. Do not enter it without avalanche training and equipment.

Keep in mind that tracks left by others do not mean that the trail is safe. You don't know how informed previous travellers were or what the conditions may have been at the time. Your safety is your responsibility.

Louise Falls

A frozen Louise Falls at the back of Lake Louise

Visible from the Lake Louise Lakeshore trail at the back of the lake.

The waterfall freezes in the winter and is a popular ice climbing destination.

Enjoy the view but please avoid standing directly under Louise Falls, especially in the spring. Falling ice can be a hazard at this location.

Learn how to travel safely in avalanche country

Many excellent programs exist to help you learn to travel safely in avalanche country. Visit Avalanche Canada for a list of programs and an online introductory primer.

Visit parksmountainsafety.ca for more information on backcountry travel and how to stay safe in the mountains.

Get outside, have fun and be safe!
Trail etiquette

Trails are shared in the national park, which means you could see people fat biking while you are winter hiking, or people skiing while you are snowshoeing.

The track set portion of the trail is for classic skiing only. The flat, groomed lane is for other users.
When climbing, please yield the right of way to descending skiers and fat bikers.
If you fall, move off the track as quickly as possible.
When taking a break, step to the side, leaving room for others to pass.
Leave no trace. Pack out everything you pack in.
Read the trail descriptions as dogs are not permitted on certain trails. Keep dogs on leash and under physical control at all times.
Trail ratings

Easy

Suitable for those with little or no trail experience.
Flat to gently rolling.
Little or no elevation gain or loss.

Moderate

Suitable for those with basic trail experience.
Gently rolling with short, steep sections.
Moderate elevation gain or loss.

Difficult

Suitable for experienced visitors with above average level of fitness.
Major elevation gain or loss with long steep sections.

For all trails, be prepared as conditions can change quickly; easy and moderate trails can become difficult due to weather change, icy conditions or poor visibility.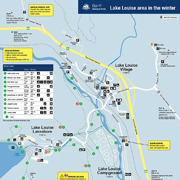 ---
Trails in the Lake Louise area
Lake Louise Lakeshore
4 km return
No elevation gain


Starting in front of the Chateau Lake Louise, this trail features classic views and at lake's end, a 100 m tall frozen waterfall.

Warning: The trail beyond the end of the lake leads to dangerous avalanche terrain. Travel beyond this point requires avalanche training and equipment.
Fairview Lookout
2 km return
100 m elevation gain



This steep trail ends at a viewpoint overlooking historic Chateau Lake Louise. Start by facing the Lake at the World Heritage Site rock. Look left and follow the trail signs for Fairview Lookout.

Warning: Return via the same path; the loop option requires avalanche training and equipment.
Louise Creek
5.6 km return
195 m elevation gain



This is the best pedestrian option from the village to the lake. From Samson Mall, walk along Lake Louise Drive to the Bow River bridge. Cross and look for the trailhead on the downstream (south) side of the bridge.
"Highline" Trail to Paradise Creek
9 km return
60 m elevation gain



An excellent snowshoeing option. The trailhead is the same as Fairview Lookout, but at the Lookout turnoff, continue for another 40 metres on the main trail, then turn left when you see the horse trail sign.

Warning: At km 1 the trail crosses the runout zone of an avalanche path rated as Simple Class 1 terrain. The path rarely runs but caution is required. At Paradise Creek, turn left for safe terrain on Moraine Lake Road. Turning right leads to Challenging Class 2 terrain in the Paradise Valley where avalanche training and equipment are required.
Mirror Lake via Lake Agnes hiking trail
5.4 km return
295 m elevation gain



From the Chateau Lake Louise, follow the main Lake Agnes trail as it rises through the forest. Sections of this portion of the trail cross avalanche terrain.

Avalanche risk: Beyond Mirror Lake, the trail is rated as Challenging Class 2 terrain for avalanche exposure and travel requires appropriate training and equipment.
Taylor Lake
12.6 km return
585 m elevation gain (see trail guide)


This challenging trail ends in a scenic hanging valley below Mount Bell. Start at the parking lot 18 km east of Lake Louise or 8 km west of Castle Junction on the Trans-Canada Highway.

Warning: Connecting trails to O'Brien Lake or Panorama Ridge take you into avalanche terrain. Travel on these trails requires avalanche training and equipment.
Laggan's Loop
1 km loop
50 m elevation gain


Head up the Mirror Lake trail approximately 60m on the right on the sunny side of Lake Louise, gaining elevation along the 'benches' of the Little Beehive, trek through the mature sub-alpine forest and explore the quiet serenity.
---
Trails on the Icefields Parkway (Hwy 93N)
Peyto Lake viewpoint
1.5 km return
25 m elevation gain


From the parking lot there are two loops. Start by following either the unplowed upper road or take the official trail from the north end of the parking lot. From the viewpoint, a second loop runs through gladed forest.