Connecting with the ocean
We are all connected to the ocean. From mountaintops to the seafloor, water always flows towards the ocean. Explore how Parks Canada protects aquatic life and celebrates marine cultural heritage from rivers and lakes to estuaries and seas.
On this page
Your ocean connection
From coast to coast to coast, all rivers join the sea. Find out which ocean basin you are connected to by following the waterways in your area on this map. Note how some of the locations administered by Parks Canada are located along the way.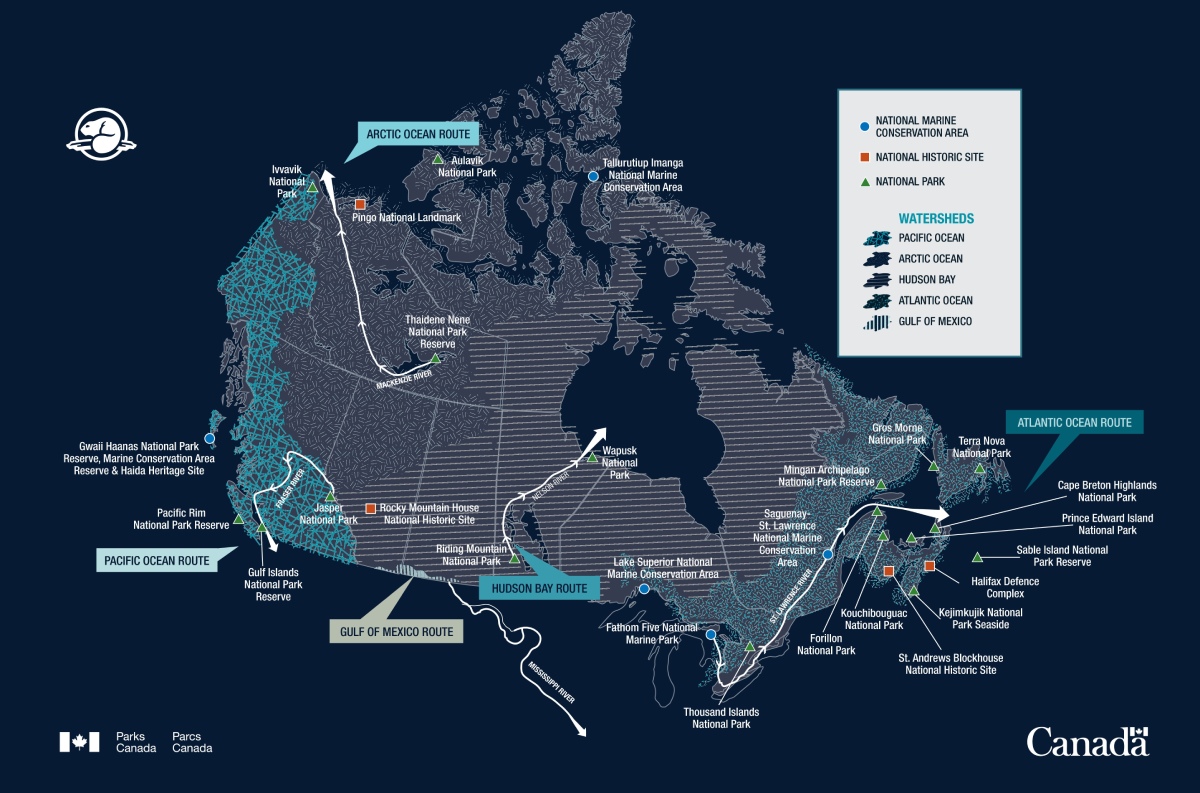 Water is essential for life. Canada is a water nation with three major coastlines and five main ocean watersheds that connect us to the ocean. The purpose of this map is to show how a droplet of water, no matter where it falls on land, can and will reach the ocean.
Note that this map is an artistic representation of the major watersheds of Canada. It is not intended to be used as a geographic tool.
Exploring iconic coastal landscapes
Parks Canada is responsible for protecting nationally significant examples of marine natural and cultural heritage and sharing the stories of these treasured places.

In person
Parks Canada provides Canadians with opportunities to explore and enjoy iconic coastal destinations across the country. Connect with the ocean by visiting one of these special places:

From home
Canada has the longest coastline in the world, over 240 000 km! Connect with some of the natural and cultural treasures along this coastline by trying out these activities:

Conserving marine ecosystems
Canada is home to rich marine ecosystems. Parks Canada contributes to protecting this biodiversity and strives to conserve 25% of marine and coastal areas by 2025, working toward 30% by 2030. This work is done in collaboration with partners, including Indigenous Peoples, provinces, and territories.
Find out how Parks Canada and partners protect underwater life:

Collaborating with Indigenous communities
Indigenous peoples have a role to play in managing, protecting, and conserving marine areas. Parks Canada is working closely with Indigenous partners to weave Indigenous knowledge and values into marine conservation programs. Learn more about the role of Indigenous knowledge and leadership in the protection of nature and culture.

Protecting marine cultural heritage
Parks Canada is responsible for protecting nationally significant examples of cultural heritage and sharing the stories of these treasured places. From heritage rivers to lighthouses, there is an amazing array of marine places and stories to discover.

Take action to protect the ocean
It's your turn to take action! Parks Canada offers several ways to get involved in protecting the ocean.
Take a #Coastie: When you take a photo of yourself, that's a selfie. When you take a photo of the coast, that's a Coastie! The Coastie Initiative is a new citizen science program in collaboration with the University of Windsor. Pictures taken by visitors help us monitor coastal change over time. Take a Coastie for yourself at one of these locations:

Prince Edward Island National Park
Kouchibouguac National Park
Fundy National Park
Point Pelee National Park
Sable Island National Park Reserve
Kejimkujik National Park
Cape Breton Highlands National Park
Forillon National Park
Gros Morne National Park

Team up and clean up the shore
Help beat plastic pollution! Pick up a shoreline cleanup kit, gather your friends and family, and head for the shoreline. Help Parks Canada identify sources of litter by taking part in this citizen science initiative.

Come celebrate Ocean Week with us
From June 2 to 11, 2023, special activities to celebrate the ocean and all its waterways will take place at different Parks Canada locations. Join us to learn more about the wonderful creatures that live in the ocean—from phytoplankton to whales—and the importance of caring for the marine ecosystems. A wide diversity of fun and educational activities awaits the whole family!
Ocean Day at Fort Rodd Hill and Fisgard Lighthouse National Historic Sites
June 10, from 10:30 am to 4:00 pm
Come down to Fort Rodd Hill and Fisgard Lighthouse NHS. Parks Canada interpreters, the Southern Resident Killer Whale outreach team and several partners are ready for you to join in on the day's festivities. You have your pick of games and activities to try. Do you want to know how a tidal pool is like a military fort; become an ally to small water creatures; create the most colourful poster celebrating Southern Resident Killer Whales; and meet local superhero Super Ollie? Join one or all programs offered throughout the day to find out how precious the ocean is and how you can help protect its inhabitants.
Cost: Regular admission
Celebrate the Salmon: A Salmon "Time" in Trout River at Gros Morne National Park
June 11th, 2023, from 10:00 am to 2:00 pm
Spring is a time for rebirth and return for all living things! So come join us for a real salmon "time" in Trout River on Canadian Rivers Day! Come join the festivities with an opening ceremony, a salmon survival game, salmon windsock making, a Salmon Parade and so much more! It will for sure be a day of fun, learning and respecting our lovely environment and everything in it!
Location: Starting at the Trout River Campground Day Use Area
Cost: Since this is an event where we are working with partners and where most of it will take place in the community of Trout River, there is no cost to it.
Water Rangers water quality testing at the Lachine Canal National Historic Site
June 10, from 1:00 pm to 2:00 pm
Join Water Rangers in learning how to test water quality and learn about how we can protect our waterways! This family-friendly event will gather at the Lachine Canal by the Charlevoix bridge where you'll learn how to test for temperature, conductivity, clarity, oxygen, pH, alkalinity, and hardness. You'll get to try the Water Rangers tools, and we'll upload the data we gather to the Water Rangers open data platform where it can be consulted by everyone!
Location: Pont Charlevoix
Cost: Free