Community Update: Part 1 - The Dams
Trent-Severn Waterway National Historic Site
The five locks and three dams in the Talbot area overcome a 75 foot difference in water elevation between Canal Lake and Lake Simcoe. This section of the Trent-Severn Waterway was originally contracted for construction in 1900, and was officially opened in June 1907.
This normally tranquil stretch of canal that runs through farmer's fields, set around small communities of cottages and year-round homes, is now a bustle of activity. Boaters and visitors this summer will notice ongoing construction activity as Parks Canada undertakes an unprecedented scale of work. Parks Canada will be providing a series of updates about the work in the Talbot area to ensure that community members and potential visitors are kept informed throughout this period of historic investment.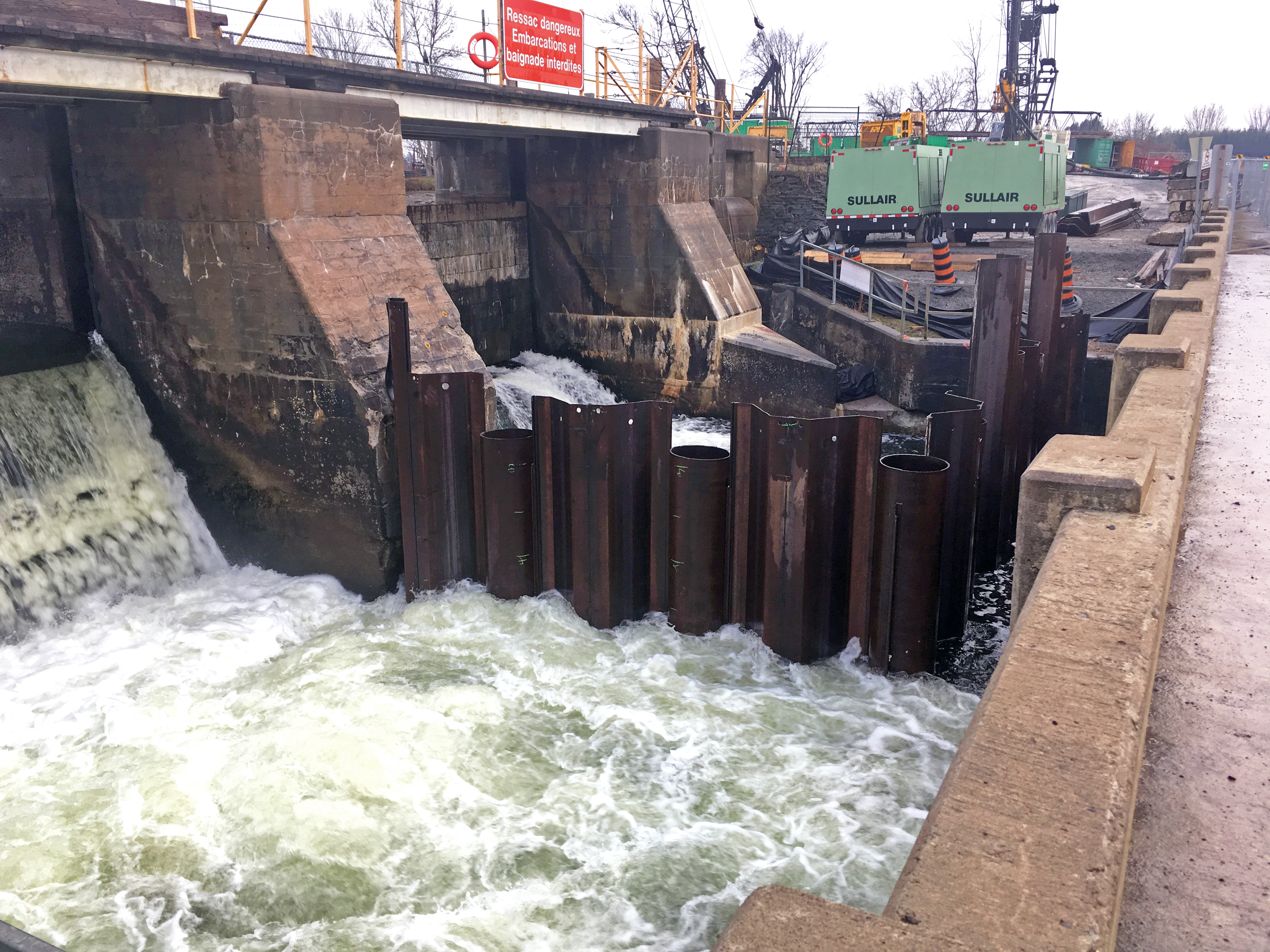 Talbot Dam
Construction has begun on the project to replace the Talbot Dam. This dam is comprised of two sluices and will be replaced in phases so that water flow can continue through one sluice of the dam even while construction takes place. Pictured, one sluice has been sectioned off with a sheet pile cofferdam on the downstream side to hold water back from the construction site.
This first phase lower cofferdam is in place and the first phase cofferdam above the dam is almost complete. Water will then be pumped out to create a dry work area, and demolition of the first half of the dam will begin in April or May.
Residents can expect construction noise through the demolition and reconstruction period. County Road 50 below the dam will remain open during construction, however there may be short temporary closures or lane reductions.
How to stay informed
Be a witness to this historic work. Check out what we're up to at pc.gc.ca/tswInfrastructure.

A photo gallery of the Talbot area projects has been shared to Parks Canada's website at parkscanada.gc.ca/tswTalbotSimcoe. More will follow in the coming weeks and months, so stay tuned.
Or, stay up-to-date on construction projects, boating activities and events by following our social media channels: Twitter @trentsevernnhs or Facebook/trentsevernnhs
If you would like to receive email updates about this project, please email us at: Ont.TrentSevern@pc.gc.ca and include "Talbot Area" in the subject heading.