History of Nicholsons lockstation
Rideau Canal National Historic Site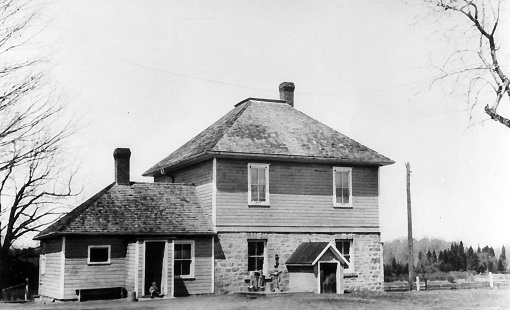 Specifications of the lockstation
Two locks (detached, 365 m (1,200 feet) apart) with a combined lift of 4.3 m (14.1 feet).
The Construction of the lockstation
The contractor for this section was A.C. Stevens and Co.
The lockstation was named after Robert Nicholson, a Loyalist immigrant. Originally the plan was for a single lock with a lift of 10 feet, but a higher lift was required and two locks were built instead.
Structures of the lockstation
Lockmaster's House:
The lockmaster's house was built in 1838. A stone building, it was originally only one storey, built without loopholes, eventually a second storey was added to provide additional space for the lockmaster and his family.
Engineering Structures:
The site consists of a 365m (1,200 foot) artificial channel with a lock chamber at each end. A stone arch dam was built above the locks to flood out a lengthy stretch of rapids and to make the river navigable between Nicholsons lockstation and the nearby Clowes lockstation.
Bridge:
The timber swing bridge crossing Upper Nicholsons lock is one of four such heritage bridges remaining along the canal. The others are located at Lower Brewers, Brass Point and Kilmarnock.
In the 1850s a petition was signed by the local residents requesting a drawbridge at the site. If a bridge was built over the lock, the petitioners promised to build one over the river. The government refused but in 1863 the municipalities of Wolford and Merrickville offered to build the bridge at their own expense for which the government readily gave them permission. The Andrews brothers built a swing bridge over the upper lock the following year. They also built a fixed bridge across the river to complete the crossing. Since then the bridge has been replaced numerous times, the most recent being in 1971. The fixed bridge has likewise been renewed on a number of occasions.
---