History of Clowes lockstation
Rideau Canal National Historic Site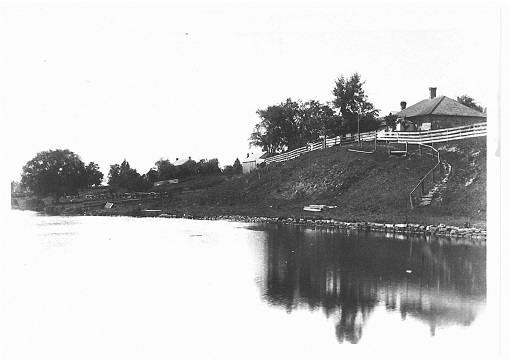 Specifications of the lockstation
One lock with a lift of 2.3 m (7.6 feet).
The Construction of the lockstation
The contractor for Clowes was James Clowes. Due to poor construction workmanship, Colonel By relieved him of his contract in 1828. He was replaced by Alexander Hayes and P. Davidson.
Clowes lockstation is located 3.3 km (2 miles) downstream from Merrickville. The site was known as Clowes Quarry, named after James Clowes who was the owner of a nearby quarry. That quarry supplied stone for the construction of the locks, dams and weirs at Merrickville and Nicholsons, as well as Clowes.
Structures of the lockstation
Lockmaster's House:
A one-storey defensible lockmaster's house was built in 1838. It was similar to others built along the canal except that it lacked loopholes for firing on attackers. The second storey was added in the 1880s.
Engineering Structures:
Originally, the lockstation consisted of a single lock chamber and an arched overflow dam. The spring flood of 1828 caused substantial damage to the partially completed dam and a stone waste weir was installed to relieve pressure on the structure.
---