Franklin's 1845 expedition
Wrecks of HMS Erebus and HMS Terror National Historic Site
The 1845 expedition led by Sir John Franklin was well prepared and expertly equipped, by European standards. He set sail in ships outfitted with the latest technologies. The ships carried three years of supplies although Franklin believed they could be stretched to five years with careful planning.
First leg of the voyage
Greenhithe, England. Franklin's expedition departed on May 19, 1845 with 134 officers and crew. During the first leg of the voyage, letters written by the men were sent home.
Whalefish Islands, Greenland (Disko Bay). In July 1845, the supply ship Barreto Junior parted from the expedition, taking letters back home as well as "invalidated" crew members (too ill to continue, or possibly because of a disciplinary issue). The expedition continued with 129 men on board.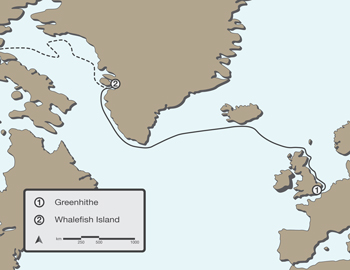 Second leg of the voyage
Beechey Island, Nunavut. The Franklin Expedition wintered here between 1845 and 1846.
Off the northwest tip of King William Island, Nunavut. The ships were trapped by ice in September 1846. According to Crozier and Fitzjames, the ships were abandoned on 22 April 1848.
Erebus Wreck, Nunavut. Located in September 2014.
Terror Wreck, Nunavut. Located in September 2016.