The vessels
Wrecks of HMS Erebus and HMS Terror National Historic Site
The Franklin Expedition set out in 1845 on two 3-masted sailing ships. Captain Sir John Franklin was on board HMS Erebus with Commander James Fitzjames as captain. Francis Crozier was appointed captain of HMS Terror.
Both HMS Erebus and HMS Terror were originally built as Royal Navy bomb vessels. The use of bomb vessels in polar exploration was common during this time. With their strong internal framework and robust construction, bomb vessels were much more likely to survive pack ice and icebergs.
In 1843, HMS Erebus and HMS Terror returned from an Antarctic expedition led by James Clark Ross. Prior to this voyage, shipwrights had reinforced the vessels with iron plating on the bows and timber and iron bracing inside of the hulls. But for the 1845 expedition the ships were further modified.
State-of-the-art technology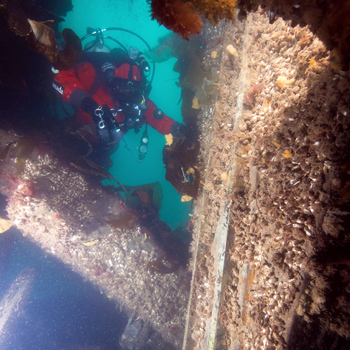 The stern of HMS Erebus was modified to accommodate a propeller for the 1845 expedition. This modification increased the length of the ship by about a metre.
Although Franklin's ships were sailing vessels, the Royal Navy had retrofitted both with steam engines as auxiliary power. The navy adapted railway locomotive engines, stripped them of their wheels, and installed them in the hold of each ship. The ships carried a limited amount of coal and Franklin's instructions stated that the engines were only to be used "only in circumstances of difficulty". An innovative device was developed to raise each of the screw propellers out of the water when not in use so to avoid ice damage.
The ships had special cooking stoves with tanks above them for melting ice and snow to create fresh water. The ships also each carried a patented heating apparatus to distribute warm to both the officer's cabins and crew's living quarters.
Basic facts
HMS Erebus (Hecla class)
Constructed:

Pembroke Dockyards, Wales, as a bomb vessel

First Launched:

7 June 1826

Dimensions:

105 feet (32 m) long;
28.5 feet (8.7 m) wide;
13.8 feet (4.2m) draught

Displacement:

372 long tons

Original Armaments:

2 mortars; 10 cannons

Original Propulsion:

Three-masted sailing ship

Notable Actions:

Participated in James Clark Ross's Antarctic Expedition 1839-1843
---
HMS Terror (Vesuvius class)
Constructed:

Davy Shipyard, Topsham, England, as a bomb vessel

First Launched:

29 June 1813

Dimensions:

102 feet (31 m) long;
27 feet (8.2 m) wide;
22.5 feet (6.86 m) draught

Displacement:

325 long tons

Original Armaments:

2 mortars; 10 cannons

Original Propulsion:

Three-masted sailing ship

Notable Actions:

Served in the War of 1812 as a bomb vessel; participated in George Back's Arctic Expedition 1836-1837; participated in James Clark Ross's Antarctic Expedition 1839-1843
---
Basic facts
Detail

HMS Erebus (Hecla class)
HMS Terror (Vesuvius class)
Constructed
Pembroke Dockyards, Wales, as a bomb vessel
Davy Shipyard, Topsham, England, as a bomb vessel
First Launched
7 June 1826
29 June 1813
Dimensions

105 feet (32 m) long;
28.5 feet (8.7 m) wide;
13.8 feet (4.2m) draught

102 feet (31 m) long;
27 feet (8.2 m) wide;
22.5 feet (6.86 m) draught

Displacement
372 long tons
325 long tons
Original Armaments
2 mortars; 10 cannons
2 mortars; 10 cannons
Original Propulsion
Three-masted sailing ship
Three-masted sailing ship
Notable Actions
Participated in James Clark Ross's Antarctic Expedition 1839-1843
Served in the War of 1812 as a bomb vessel; participated in George Back's Arctic Expedition 1836-1837; participated in James Clark Ross's Antarctic Expedition 1839-1843