The best hiking in Western Canada
From a barefoot walk along Canada's only Salt Plains, a stroll along a beautiful Indigenous art trail, an epic multi-day hike or a tour of a world-famous lake, there's a hike for you in Alberta and BC.
British Columbia
Pacific Rim National Park Reserve
Length: 75km
Time: 6 - 8 days
Level of difficulty: Difficult. Best for serious hikers! You need to be experienced in overnight backpacking and able to go long distances in difficult conditions with a full pack.
Step by step, make memories which will last a lifetime on the epic West Coast Trail, a six to eight-day adventure through rugged terrain with often rainy, wet conditions across 75km. This endurance trial is made magical by spotting eagles wheeling overhead, whales and sea lions in the ocean and dozens of waterfalls and hidden lighthouses, while navigating vast old growth forest by the crashing seashore. If you're intimidated by the full experience, you can join mid-point at Nitinaht Narrows, only accessible by water.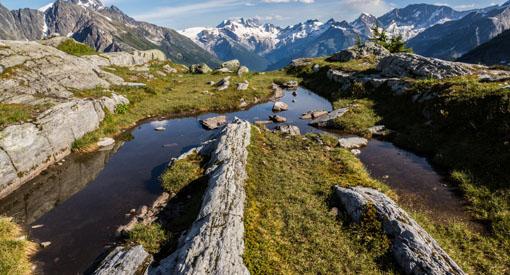 Glacier National Park
Length: 3.2km (one-way)
Time: 2-3 hours, uphill. This day-long hike will take around 5-6 hours as a round trip, and has the reputation of being the steepest to tackle in a park famous for its steep trails.
Level of difficulty: Difficult
Think you've got what it takes to tackle the Hermit Trail? This uphill hike through towering old growth subalpine forest gains some 819m in elevation over just 3.2km, proving a serious workout for your legs. But the views when you get there are more than worth it offering a panoramic display over the ice fields, surrounded by Mount Tupper, Hermit Mountain, Mount Rogers and Swiss Peak.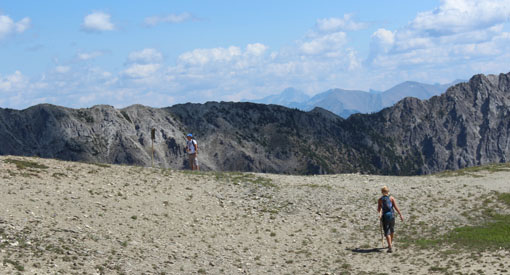 Kootenay National Park
Length: 17.5km
Time: 6 hours
Level of difficulty: Moderate. Suited for people who can happily hike over some rocky ground and slopes.
Make it a day hike on the top rated loop in the park, the Kindersley-Sinclair Trail. This loop rises 1055m in elevation over 17.5km of forested trail with rocky ridges and avalanche slopes. Make sure you stay on the trail to avoid bushwhacking and scrambling up and down gullies, and be Bear Aware as this is grizzly territory. Throughout summer you'll see carpets of wild flowers in the meadows and along the way you'll see what some call the 'Matterhorn of the Canadian Rockies' Mount Assiniboine.
---
Alberta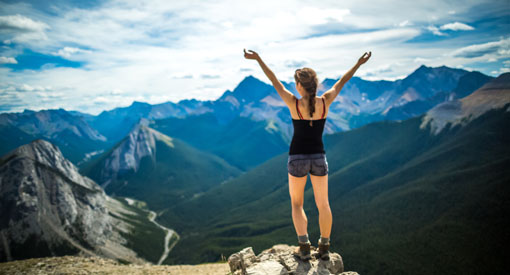 Jasper National Park
Length: 8km (return)
Time: 4 - 6 hours
Level of difficulty: Difficult. Best for teens and fit adults who can handle a steep climb.
The name may not be sweet, but the views certainly are on the Sulphur Skyline Trail! You'll catch some of the most awe-inspiring panoramas that Jasper has to offer, but you'll definitely need to work for them. The 8km trail rises 700m in a thigh-trembling 4-6 hours round trip. But once you reach that summit and see the park spread before you and the mountains rising above you, it will be so worth it. Pro tip: head to the nearby Miette Hot Springs for a soak to relax those limbs after this muscle-pounding hike!
Elk Island National Park
Length: 3.5km
Time: 1 - 2 hours
Level of difficulty: Easy
See conservation in action when you explore the Beaver Pond Trail. The fur trade had completely wiped out beavers from this region by the mid-1800s, but Parks Canada staff successfully re-introduced them in the 1940s and now you'll see them thriving! Follow the trail through open aspen forest and sedge meadows to see another great conservation success story; the plains bison grazing.