Trails
Gulf Islands National Park Reserve
Russell Island | Sidney Spit | Princess Margaret (Portland Island) | Pender Islands | Mayne Island | Saturna Island | Tumbo Island
Russell Island *boat access only*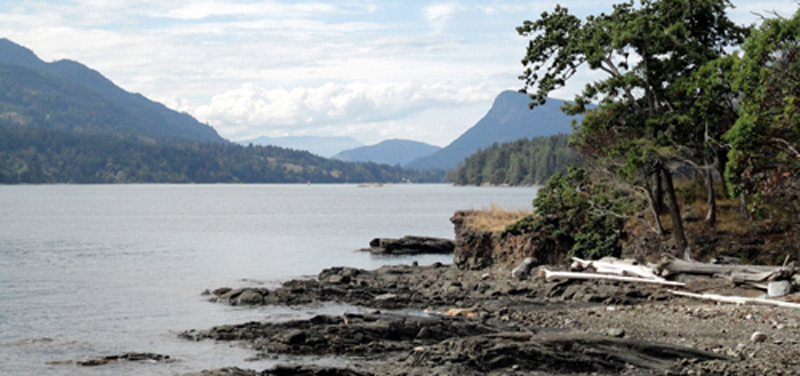 Moderate 1km (30 minute loop) from boat access.
A spur off the main loop trail leads to one of the last surviving Hawaiian homesteads in the region. The historic house dates back over a century.
Sidney Spit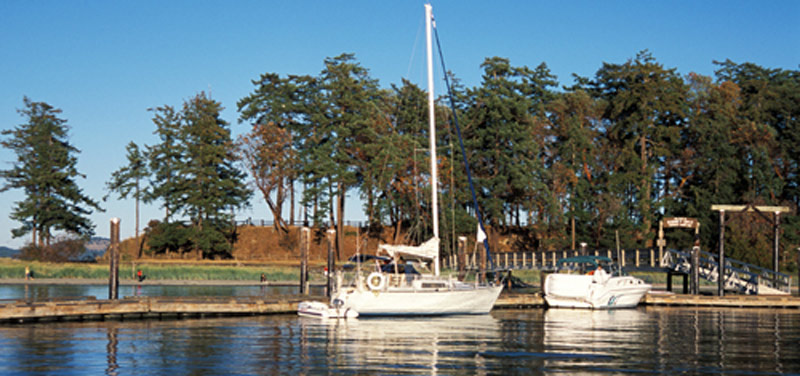 Easy 2km loop with cross trails and 1.5km spurs (45 minutes loop; 40 minutes beach or field spur) from main boat dock.
Take a leisurely walk on the beaches or wander the trails through shady forests and sunny open fields.
Princess Margaret Perimeter Trail (Portland Island) *boat access only*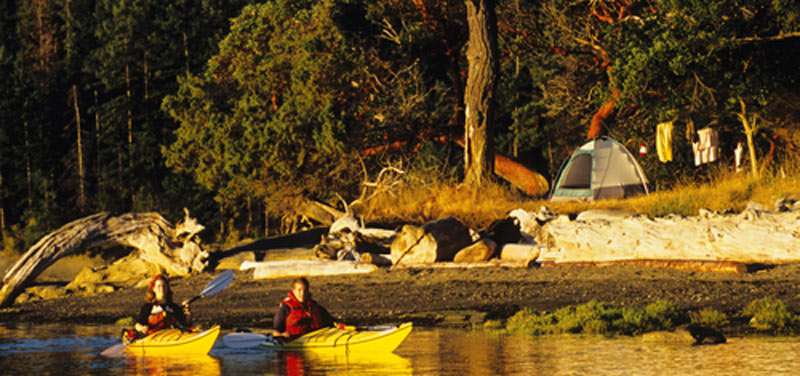 Moderate 6.5 km 3 hour loop.
A shoreline loop allows you to hike around the entire island and enjoy spectacular views. Shorter trails cut across the interior of the island.
Pender Islands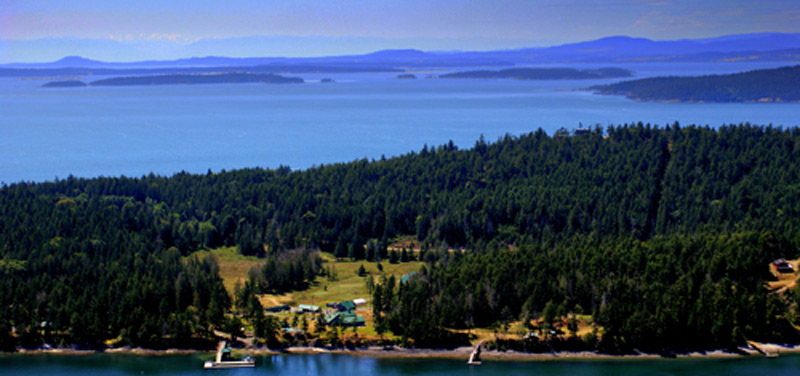 Beaumont
Difficult 1.5km trail (60 minutes) from Ainslie Point Road or 90 minutes from Canal Road. (Parking available at Canal rd only).
Half a kilometre from the Ainslie Point parking lot, the trail to Beaumont switchbacks steeply down through thick forest and boulder fields. It levels out about 30 metres above the shoreline to a fork in the trail: both forks lead to the camping area.
Mt. Norman
Difficult 1.5km trails (60 minutes each) from either Canal Rd or Ainslie Point Rd. (Parking available at Canal Rd. only).
The panoramic views from Mt. Norman are worth the effort spent hiking this strenuous trail through salal and second-growth forest. The boardwalk and viewing platform mean you've arrived at the summit.
Get your heart pumping! It's an invigorating 244-metre (800-foot) shore-to-sky trek from the campsites at Beaumont to the summit of Mount Norman.
Roe Lake
Moderate 1.2km (45 minutes one way) from Shingle Bay Rd.
Loop Trail (55 minutes) - 1.4 km loop - (.5 km from Shingle Bay Road trail access or .4 km from Magic Lake Estates)
This trail leads into the uplands above Shingle Bay to Roe Lake, then steeply descends to the Magic Lake Estates subdivision. The loop trail allows you to hike around the lake where you can enjoy stunning views of tranquil Roe Lake.
Roesland
Easy 0.5km (15 minutes one way) from parking lot to viewpoint.
Quick access to a former cottage resort dating back to the early 1900s. To the right of Ella Bay, a short rustic trail on Roe Islet leads to a viewpoint.
Mayne Island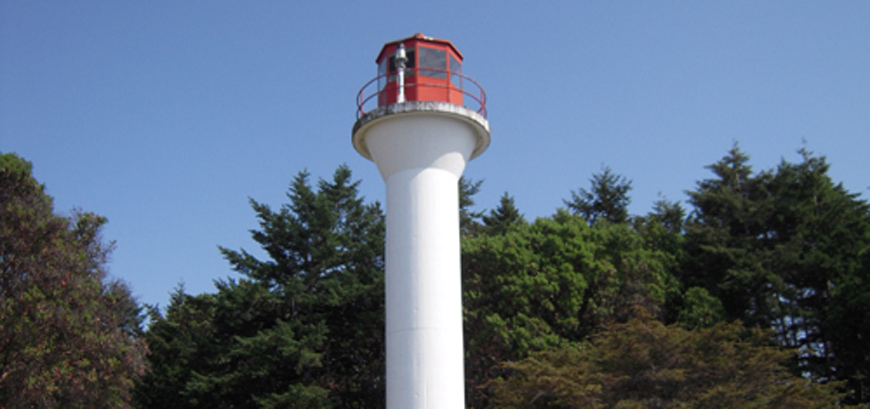 Bennett Bay
Easy 1.5km (15 minutes to the point; 40 minute loop) from Bennett Bay Rd.
Campbell Point features remnant old-growth forest. A wide and relatively flat trail brings you to superb views from the point across to Georgeson Island.
Saturna Island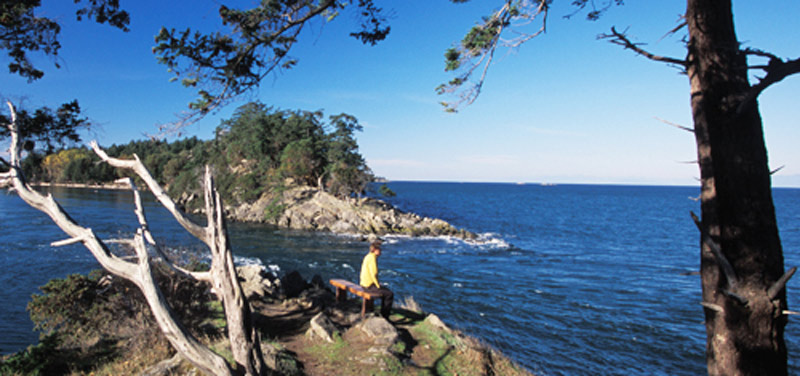 Winter Cove
Easy 1.5 km (25 minute loop) from Winter Cove day use area.
This pleasant loop takes you through a variety of vegetation zones—skunk cabbage wetland, spruce-salal upland, open meadows and salt marsh—and offers spectacular views across the Strait of Georgia.
Narvaez Bay
Moderate 1.7km (30 minutes, one way) from parking lot at the end of Narvaez Bay Rd.
A moderately steep old road leads to one of the most serene locations on Saturna Island. At the headland, choose to go right to Echo Bay and enjoy a beautiful relaxing spot or turn left to head to backcountry campsites near Little Bay.
Monarch Head (Narvaez Bay)
Moderate to difficult 2.5km (1.5 hour loop) from parking lot at the end of Narvaez Bay Rd.
Rapidly rising 100 metres in elevation to the viewpoint, this new trail branches off the Narvaez Bay trail and follows an old logging road up to an incredible view of Boundary Pass.
Lyall Creek
Moderate 2km (40 minutes, one way) from either Narvaez Bay Rd. or the east end of Valley Rd. (park at pull-off on East Point Rd).
Descending from Narvaez Bay Road, the initially steep trail passes by a mossy waterfall then levels off quickly. The hike continues through the forested heart of the island and follows the creek to end at East Point Road.
Tumbo Island *boat access only*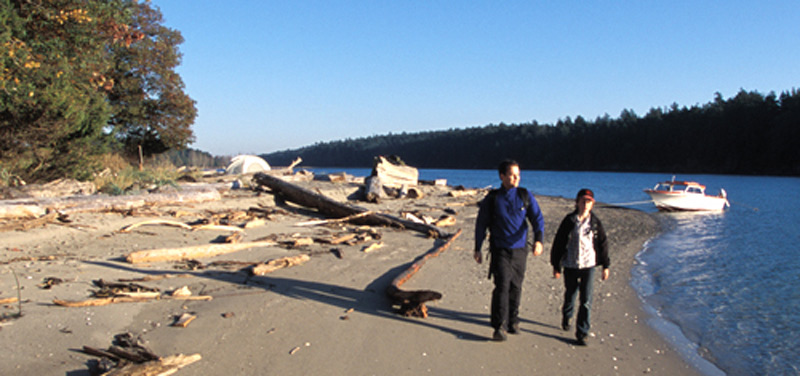 Easy 3.5km (90 minute loop) around Tumbo Island.
The designated trail provides multiple ocean view opportunities of Cabbage Island across from Reef Harbour and the San Juan Islands, as it wanders through Garry oak, Arbutus and coastal Douglas Fir forest, and marshes. (NOTE: A life tenancy agreement is in place for the house. Please respect the resident's privacy).