Beaver Glen Campground
Prince Albert National Park
Sit around the campfire at night surrounded by a canopy of spruce boughs and starlit skies!
Tucked along the edge of Waskesiu, Beaver Glen Campground offers a wilderness setting. A short walk or drive and you are in the heart of the resort community with all amenities within your reach. A variety of site types and sizes are offered to accommodate tents and trailers.
* Review all camping safety, regulations and etiquette before departure.
Beaver Glen Campground features,
200 electrical, back-in campsites (electrical amperage 15/30)
100% reservable, contact the Parks Canada Reservation Service
Accessible washrooms with hot showers and flush toilets
Centrally located shared camp kitchens
Water taps throughout the campground
Firewood (permit must be purchased at the campground kiosk)
RV dump/fill stations
Each campsite includes:
Picnic table
Fire-pit (a fire permit must be purchased when checking in at the Campground Kiosk)
Raised, gravel camping area
Wi-Fi is available within the town of Waskesiu. For more information on commercial services and facilities available in Waskesiu visit the Waskesiu Chamber of Commerce.
Reserve by phone:
Call 1-877-RESERVE (1-877-737-3783). Available from 8 a.m. to 6 p.m. local park time
Outside of North America: (519) 826-5391
For more general information, please call the Parks Canada national information line at 1-888-773-8888.
Campground check in / check out
Check in at the Beaver Glen Campground Kiosk upon arrival.
Check in time is 2:00 p.m.
Check out time is 11:00 a.m.
If arriving after the campground kiosk is closed, please contact the Visitor Centre at 306.663.4522 the day before the reservation to make arrangements.
Additional information: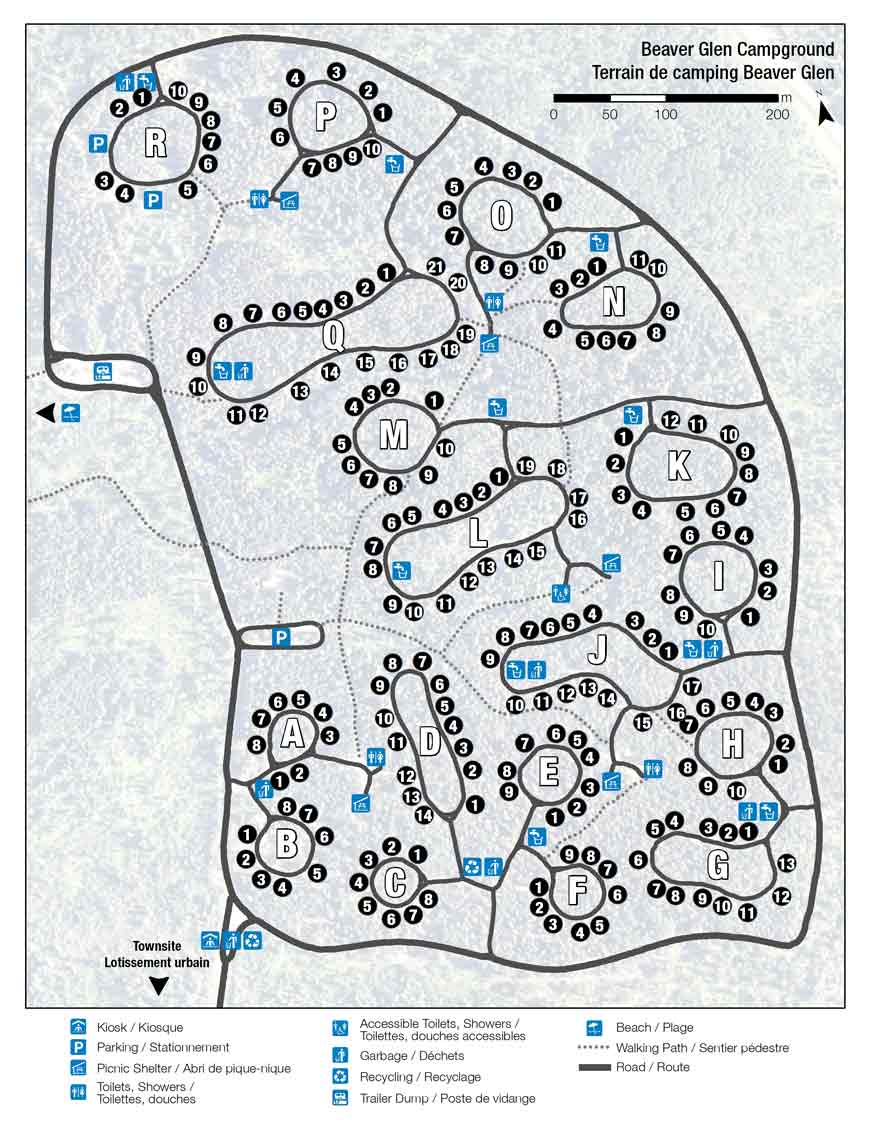 oTENTiks
oTENTIKS are closed for the 2021 season.
Beaver Glen Campground R-Loop is home to ten (10) oTENTiks, a spacious blend of a tent and an A-frame cabin equipped with beds and furniture on a raised floor.
Check in time for oTENTiks is 3:00 p.m.*
Check out time for oTENTiks is 11:00 a.m.
*If arriving outside of Prince Albert National Park's hours of operation, arrangements must be made for key and lantern pick-up. Please call the Visitor Centre for more information.
Reservation System No-Show Policy
Reservation System No-Show Policy - If you have not checked-in at the campground by 11:00 a.m. the day after the scheduled day of arrival, and the park has not been contacted to inform them of your late arrival, your reservation will be deemed a "No-Show". The reservation will be cancelled and the campsite will be made available to other guests.