Your Responsibility
Wood Buffalo National Park
Visitor Information
Your Partner: Parks Canada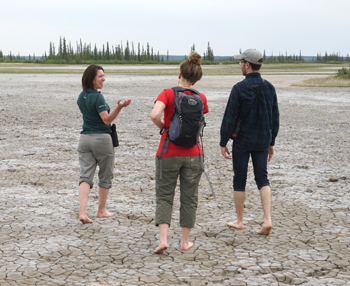 Parks Canada is responsible for providing a public safety program that deals with the specific incidents and issues encountered within each heritage area. Although there is national coordination of the public safety program, levels of service and methods of dealing with incidents vary from one heritage area to the next.
As your partner in safety, Parks Canada wants to help you enjoy your trip and stay safe. To help ensure the safety of our visitors, Parks Canada engages in visitor risk management and public safety planning, builds and maintains facilities (such as trails, hazard signs and overpasses to prevent wildlife from crossing in front of traffic), and works with other government departments and non-governmental agencies to provide trip planning and safety information, as well as search and rescue services.
Your Responsibility as a Visitor
Parks Canada also recognizes that park visitors have a certain responsibility for their own safety, and that risk management must become an integral part of their experience. While some visitors recognize the risks involved in outdoor recreation, and are prepared for their adventures, many others don't know what they're getting into. That means they're unable to choose effectively between taking a smart risk and a foolhardy one. The rising popularity of adventure travel and outdoor pursuits makes it particularly important to ensure that visitors take responsibility for their own safety. Parks Canada asks that you share the responsibility for your visit to protected heritage areas to help ensure a safe, enjoyable and memorable visit.