Walcott Quarry: Classic expedition
Yoho National Park
Hold a 500 million year old fossil in your hand!
This classic journey begins at Takakkaw Falls and includes views of Emerald Lake from high above. As you hike through stunning mountain landscapes, you'll learn about the weird and wonderful Burgess Shale creatures and how they were fossilized and came to be found at the top of a mountain in Yoho National Park.
Is this hike right for you? | Schedule | Cost | Reservations | Hike logistics
---
Walcott Quarry hike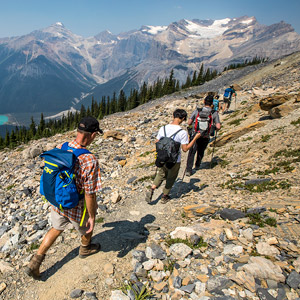 Difficulty: Difficult
Return Distance: 22 km
Elevation Gain: 825 m
Duration 11 hours, 7 am to 6 pm
Is this hike right for you?
Walcott Quarry hike is rated as difficult. The trail begins and ends with steep and sustained hills on well maintained trails. From the Takakkaw Falls parking lot, hike 4.1 km up steep switchbacks on packed dirt trails to Yoho Lake. The remainder of the hike involves more gently graded elevation gain leading 6.7 km from Yoho Lake to the Walcott Quarry trail with a short but steep hill on rocky terrain over the last 600 m to the restricted Walcott Quarry site. This hike is not advised for people with recurring knee, back or ankle injuries.
Please see our day hikes page for details on hike ratings and to compare other hikes in Yoho National Park with similar difficulty
Note:
Children under 8 are not allowed on the Walcott Quarry hike
Children and youth up to 16 years of age must be accompanied by an adult
Parent or guardian of participants 17 to 19 years of age must sign a waiver at the trailhead
No pets
No exceptions
We want you to enjoy your day! If you are unsure if this hike is right for you, please call us to discuss at 1-250-343-6783 or email us at pc.yohoinfo-infoyoho.pc@canada.ca.
Schedule - 2023 Walcott Quarry Hikes
Walcott Quarry: Classic expedition runs every day except Wednesday and Thursday, from July 9 to September 11.
When travelling east from Vancouver, the time changes from the Pacific Time Zone to the Mountain Time Zone at Glacier National Park's eastern boundary. All hike times are in Mountain Daylight Time, the same time zone as Calgary, Alberta and Golden, British Columbia.
Cost
Visit our fees page for pricing.
All participants on the Burgess Shale Guided Hikes require a valid national park pass. Purchase your pass the day before your guided hike; the park gates and visitor centres are not open in the early morning, and our guides do not sell park passes.
Reservations are required and available starting March 29, 2023. To make a reservation you will require the following information:
Date and hike requested
Names and ages of participants
Emergency contact and medical info
MasterCard, Visa or AmEx number
Call 1-877-RESERVE (1-877-737-3783), or reserve online.
Reserve now!
Hike logistics
Meeting point

Meet at the south end of the Takakkaw Falls parking lot, Yoho National Park at 7:00 AM MDT.

The Takakkaw falls parking lot is located at the end of the Yoho Valley Road, 5 km east of Field, BC on the Trans-Canada Highway. Hike ends at the same location.

The road up to the Takakkaw Falls parking lot is only passable by cars and small RVs (under 7 m). Longer vehicles must reverse to make it around tight switchbacks. No trailers!

Trailers can be left in the parking lot across from Monarch Campground.

Note: Construction in the Kicking Horse Canyon, 10 km east of Golden, means periodic overnight closures of the Trans Canada Highway between 10 pm and 7 am.

These closures may impact some visitors traveling from Golden, British Columbia into Yoho National Park on the morning of their hike. Check www.drivebc.ca for details and alternate routes.

When travelling east from Vancouver, the time changes from the Pacific Time Zone to the Mountain Time Zone at Glacier National Park's eastern boundary. All hike times are in Mountain Daylight Time, the same time zone as Calgary, Alberta and Golden, British Columbia.
COVID-19

Your safety and the safety of our staff is our top priority. Parks Canada continues to follow the advice and guidance of public health experts to limit the spread of COVID-19, and reduce the risks to residents, visitors, employees and other users.

Visitors are asked to continue to follow the advice of public health experts on personal hygiene and physical distancing

during the hike program

Physical distance with people outside of your household.
Good hygiene, e.g. sanitize hands before and after eating/drinking, cover coughs and sneezes, avoid touching face.

Come prepared with your own "COVID-kit" including water, snacks, hand sanitizer and toilet paper

You may bring your own masks, if desired.
What to bring

A day of hiking in the Rockies requires preparation. Conditions can change rapidly in the mountains and higher elevations increase your exposure to the sun and stormy weather. To have a safe and fun time outdoors you will need to bring:

Warm layers of clothes (no cotton), rain jacket and rain pants, winter gloves, and a winter toque / hat
Hearty lunch and multiple snacks
Drinking water, at least 2 litres or ½ gallon per person
Sturdy and worn in hiking boots and extra wool socks
Hiking poles (required for the Mount Stephen hike). Note: Your guide may have hiking poles for you to borrow for the day.
Sturdy and supportive backpack with a waist belt
Sunscreen, sunglasses, sun hat, insect repellent
Toilet paper in a plastic bag for disposal, hand sanitizer
Reading glasses, if you wear them
Blister kit and personal medical supplies (just in case)
Sorry, no pets please.
Camera!