Bison are back in Waterton Lakes National Park
Waterton Lakes National Park
Bison are back in Waterton Lakes National Park
Parks Canada welcomed six plains bison from Elk Island National Park to the Waterton Lakes National Park bison paddock on February 19, 2021.
Parks Canada was honoured to have Blackfoot Elders from Kainai Nation, Piikani Nation and Siksika Nation welcome the bison back to the park, blessing the animals and the land in a private, physically-distanced prayer ceremony. A bison specialist, who is also a member of the Kainai First Nation, helped transport the bison to the park.
In September 2017, Parks Canada had to relocate the bison from Waterton Lakes National Park because of the Kenow Wildfire. The rough fescue prairie in the park's bison paddock has regrown enough after the wildfire to sustain the herd.
The bison were released into the park's isolated winter paddock upon arrival. They are in the winter paddock until late spring, when they are moved to the larger, summer paddock. The bison will remain in the summer paddock until fall.
Viewing bison in Waterton Lakes National Park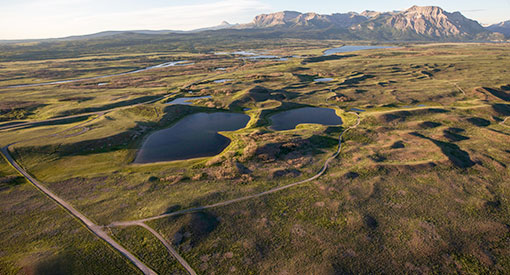 Bison Paddock Loop Road
The Bison Paddock loop road and access to the area from Highway 6 are not maintained at this time. Visitors can view the bison in the summer paddock in spring 2024.
Viewing bison in Waterton Lakes National Park is a popular visitor experience.
In spring, summer and fall, you can drive the Bison Paddock Loop Road and observe the animals. This short, scenic route, located just inside the park's north boundary, off Highway 6, passes through fescue grasslands inside the park's summer section of the bison paddock. Bison roam within the fenced enclosure.
Waterton Lakes National Park has maintained a herd of plains bison, consisting of five to 20 animals, in its bison paddock since 1952.
Bison safety: Bison are wild animals and can be dangerous and unpredictable. When viewing bison from the Bison Paddock Loop Road, drive slowly, stay inside your vehicle, and take photos from a safe distance. Pedestrians, cyclists and motorcyclists are not permitted on the Bison Paddock Loop Road.
Supporting Indigenous-led conservation projects
Parks Canada collaborates with Indigenous communities and organizations in various conservation activities, such as species at risk recovery and habitat restoration.
Waterton Lakes National Park is supporting Kainai First Nation in establishing a cultural bison herd. In February 2021, 40 bison were also relocated from Elk Island National Park to the Kainai First Nation.
We are grateful to play a role in this special initiative. Bison were an integral part of the lives of Indigenous peoples across North America and they continue to play important roles in many Indigenous cultures today.
In southwestern Alberta, bison and Blackfoot peoples have been deeply connected for over 10,000 years. Bison are an icon of Canada's history, and restoring them to the landscape is an opportunity to renew cultural, historical, and ecological connections.
Bison ecology
Bison helped shape the grassland ecosystem that supports a diversity of life today. They are called a keystone species, or ecosystem engineer. This means bison alter the landscape in ways that benefit virtually all other plants and animals.
Restoring bison benefits the entire ecosystem, from the soil to top predators, including many species at risk. For over a century, Parks Canada has made lasting contributions to wildlife conservation. The rescue of bison from near-extinction is one of Parks Canada's greatest success stories.
Supporting landscape-scale conservation and Indigenous-led conservation through the Government of Canada's Nature Legacy Program is a priority for Waterton Lakes National Park.