Create and support new protected areas
Parks Canada works with partners to create and manage protected areas. These areas contribute to global targets to protect 25% of lands and waters by 2025, and 30% by 2030. This will help to stop and reverse biodiversity loss and address climate change.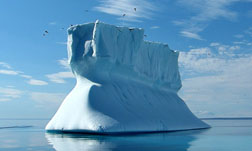 Canada, Nunavut, and the Qikiqtani Inuit Association agree on a final boundary for Canada's largest protected area.
What's the recipe for a new marine conservation area? A vision, a plan, a community, and years of perseverance.
The goal of the National Park System Plan is to represent each of Canada's 39 natural terrestrial regions.
Planning is underway to conserve Canada's biodiversity through a variety of different measures, including new parks and protected areas.