An expanding colony
Forges du Saint-Maurice National Historic Site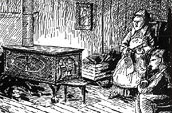 Following the Conquest in 1760, production concentrated on meeting the growing, urgent needs of the colony, where settlement was expanding rapidly. From that time on, the Forges produced a great deal of castings-i.e., articles and implements for use in heating, cooking, and farming.
As Crown property, the Forges were leased to entrepreneurs who enjoyed favourable terms and conditions. These operators had no real competition, were blessed with an expanding market, and held exclusive rights to supplies of raw materials located over a huge territory.
It was the Forges' golden era!

The industrial era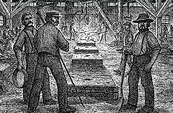 © Parks Canada
When the Crown sold the Forges in 1846, the conditions of operation changed radically. The new owners no longer enjoyed exclusive rights to resources, and were confronted by an increasingly competitive market. In order to improve the profitability of the company, they upgraded equipment and facilities, and concentrated on particular lines of products.
After producing wagon wheels for a few years, the Forges gradually specialized in the production of pig iron for major industry.
During this time, new industries had sprung up in the Mauricie region, and began drawing on the same pool of skilled workers. The old forges hobbled forward into the industrial era.
The McDougalls make over the Forges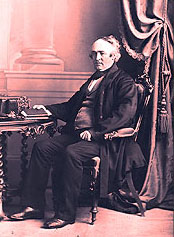 © Musée Mc Cord / Archives photographiques Notman / 6359-1
In 1863, Trois-Rivières merchant John McDougall took over the company, which had been closed for five years. The forges were in a state of ruin, and a number of workers had left for positions elsewhere. In association with his sons, the new owner completely redirected production to meet the needs of major industry. Thanks to their competent management, the McDougalls temporarily blew life back into the Forges.
However, despite 20 years of effort and investment, the oldest operating blast furnace in North America at the time was blown out for good in March 1883.
An abandoned industrial village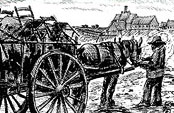 © Parks Canada
After the company shut down and workers migrated elsewhere, the buildings and equipment quickly deteriorated. People from all over the area came to the site to recover usable materials. Several as-yet sturdy buildings were moved to other locations in the vicinity.
The land formerly occupied by the village was sold to farmers, who used it for crops or pasture land. Cattle were then seen grazing amid foundation stones and abandoned chimney work.