Designation
Forges du Saint-Maurice National Historic Site
The old Forges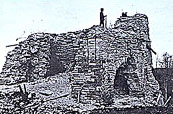 The historian Benjamin Sulte, who had lived at the Forges during his childhood, published the first historical study of the company in 1920. That same year, he persuaded the Historic Sites and Monuments Board of Canada to lay a commemorative plaque at the site, a gesture it effectively carried out in 1923.
Also at that time, Reverend Albert Tessier, accompanied by members of the Société d'histoire régionale de Trois-Rivières, initiated a major campaign designed to promote public awareness of this major heritage resource, and conducted an amazingly broad range of actions to achieve that end. Although their efforts remained fruitless for many years, their dream finally began to materialize during the 1960s.
The Forges return to life
© Parks Canada / Jean Audet / 130/PA/PR6/S-16-6
In 1963, the Trois-Rivières Chamber of Commerce proposed rebuilding the Forges. That same year, the Québec Ministère des Affaires culturelles purchased the site. Ten years later, in 1973, a federal-provincial agreement ceded ownership and use of the Forges lands to the Canadian government.
An ambitious research program was then established. From 1973 to 1976, the site represented the largest archaeological excavation area in Canada. Specialists in all disciplines succeeded in preserving and developing major vestiges.

The Forges today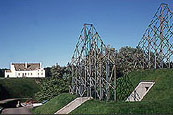 © Parks Canada / Jacques Beardsell / 130/IN/PR-7/SPD-00058
Sensing the public interest in the archaeological excavations, Radio-Canada presented a family television series called Les Forges de Saint-Maurice from 1972 to 1975.
Parks Canada made good on its mandate of presenting heritage by first opening the blast furnace, followed by the Grande Maison, to the public.
In 1998, the National Historic Site celebrated its 25th anniversary. For the occasion, historian Roch Samson published a remarkable comprehensive survey entitled The Forges du Saint-Maurice, Beginnings of the Iron and Steel Industry in Canada, 1730-1883. It's must reading!