People of historical significance
Forges du Saint-Maurice National Historic Site
Mathew Bell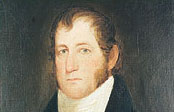 Mathew Bell, a clever British-born merchant, managed the Forges for 53 years, a fact which contributed significantly to the company's stability. Under his reign, the village reached its peak population of 425 inhabitants.
Bell's superintendants had a solid command of the operating schedule, which depended heavily on regular, continuous supplies. The old-stock French workers who had been in the employ of the Forges for several generations ensured that operations in the workshops ran smoothly. They were supervised by foremen of British origin.
The company flourished, and enjoyed an enviable reputation.