Calendar of events
Manoir Papineau National Historic Site
Tales from the shadow - September 1st
Culture and entertainment
History
Nature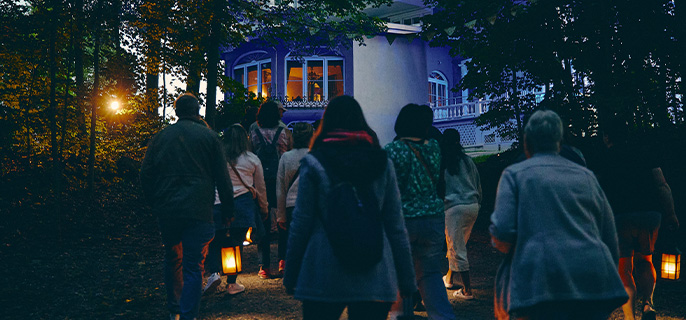 Time:
07:00 PM - 10:30 PM
Location(s):
Manoir Papineau National Historic Site
Cost:
Check out the fees below.
Experience the manor from a different perspective as night falls.
As soon as you arrive at the parking lot, a guide will hand you a lantern before inviting you on a mysterious walk down the seigneurial alley. Once at the manor house, the estate's friendly gardener will take you through the various rooms on the main floor. He'll be sure to tell you all about the history and legends of the Papineau family! Continue your visit by strolling through the illuminated garden, and finish the evening by enjoying the campfire. Mystery and fun guaranteed!
The activity lasts approximately 90 minutes and is offered in French only.
There are several places available per session:
7:00 to 8:30 pm in French
8:45 to 10:30 pm in French
Mandatory reservation

Book your place here.

The Manor staff will call you to make the payment by phone.

No fee is charged at the time of online booking. Access and activity fees are payable upon arrival at the site on the day of your visit.

If you are unable to attend or wish to change your time slot, please advise as soon as possible as space is limited.
Fees

Extra fees apply to the entrance fees. Check out the fees.