School programs
The Fur Trade at Lachine National Historic Site
FREE online workshops for teachers and facilitators (Social Universe)
Parks Canada is pleased to partner with École en Réseau to present free online workshops all year long. This year, the workshops are:
October 27: Fort Chambly Investigation in the days of New France
December 20: Victorian Christmas
February 9: Building a Nation - Canada Past and Present
April 20: On board, voyageurs! The Fur Trade and the Voyageur's Way of Life
May 10: The Battle that saved Montreal (War of 1812)
For the complete program and to register, visit École en réseau web site.

The day before each presentation, those who have signed up will receive an email with a link to join the workshop.

All presentations will be recorded and can be viewed after the original presentation date using a link provided to those that registered for the presentation. Registration for 2023 workshops will be open in December 2022.

* Please note that English workshops are listed after the French version.
The fur trade- what an adventure!
Experience the adventure of Indigenous trappers, French Canadian voyageurs and European merchants during the fur trade era.
Located exactly where the voyage to Western Canada began, the great fur trade adventure awaits your class at the Fur Trade at Lachine National Historic Site. In a former warehouse in Old Lachine, discover the Iroquoian and Algonquian peoples, the difficult canoe trip to the West and the relations between Europeans and First Nations.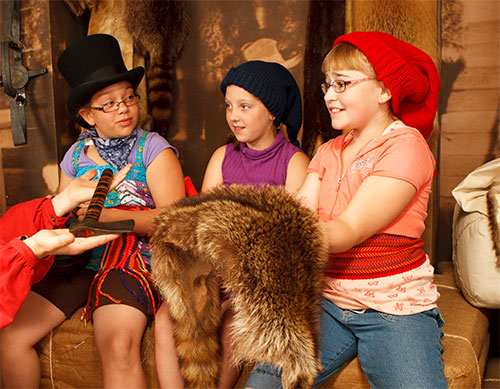 Program
Role playing where the students discover all the key players and the communication difficulties they experienced in this historical trading chain.
Interpretation of geographical maps to uncover exchanges.
Exploration of objects related to the fur trade: clothing, tools, furs and many more.
Competence
Interpret change in a society and its territory.
Identify traces of these changes in our society and in our territory.
Specify the causes and consequences of the changes.
Additional information
The visit program (2 h) takes place in two buildings and requires walking outside.
During the activity, students are invited to participate in different ways: alone or as a team, playing a role, touching objects or exploring the museum.
Public: Grades 3, 4 and 5 (8 to 11 years old)
Languages: French and English
Period: April to June / September to November. Reservation needed.
Fees

Characteristics
Free parking, including spaces for buses
Picnic tables or lunch inside (reservation needed)
Weather appropriate clothing is recommended.
This historical site is an approved attraction in the directory of

Une école montréalaise pour tous.

.
Reservations and information
commercefourrure-furtrade@pc.gc.ca
514 283-2282 ou 1 888 773-8888