Lock & Paddle 2023
Trent-Severn Waterway National Historic Site
---
Join Parks Canada at this free community paddling event on the last Saturday of summer, as together we celebrate the Peterborough Lift Lock National Historic Site and take a ride to the top. Enjoy a paddle on the waterway alongside hundreds of colourful canoes and kayaks, before we pack the World's Tallest Hydraulic Lift Lock and send you 65ft into the air. At the top, take in the spectacular view surrounded by the sounds of music and laughter, in the company of new friends and family.
---
Lift your spirits
For this year's theme, Lift Your Spirits, we invite you to show us what makes you happy. Decorate your vessel, wear a costume, or simply bring a smile. The return of Lock & Paddle is a joyful time to be outside on the water with your friends and family at a National Historic Site.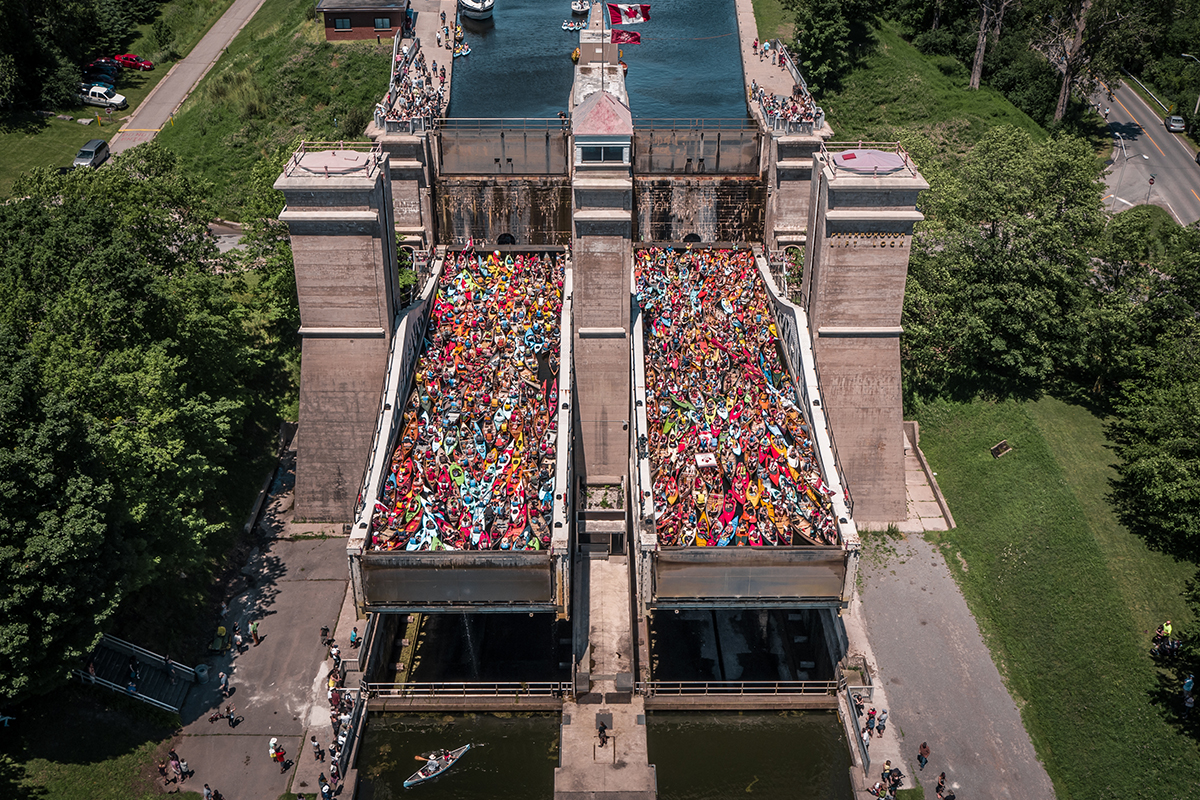 ---
Getting here
Plan ahead and decide where you will launch your canoe or kayak in order to reach the event. Experienced paddlers may choose one of the nearby options and enjoy a short paddle on their way to the Lift Lock. Beginners, or those with accessibility needs, can enter the waterway at the Visitor Centre on-site at the event.
---
Schedule
Peterborough Lift Lock Visitors Center and Grounds Open
Please note that parking at the Visitors Center is reserved for accessible permit holders; additional parking locations are listed below.
Participants should be in their vessels and ready to load at the bottom of the Peterborough Lift Lock.
First lockage begins, and additional lockages will follow if required.
---
Rules and requirements
All-ages and skill levels welcome;
All paddlers/passengers must wear a PFD in order to participate;
Smoke-free / Alcohol-free event;
Respect your fellow paddlers!
Visitors who do not follow the rules and requirements will not be permitted to enter the tubs.
---
Note: This is a rain or shine event. Dress for the weather.
Canoe or kayak
Personal Flotation Devices (PFDs) for each paddler
Sound signalling device, buoyant heaving line, and bailer for each boat
Watertight flashlight
Sunscreen and a hat
Water bottle
A smile!
---
Gear and rental options
Don't have your own boat or gear but still want to make a splash? Check out these local rental options:
---
Parking
There will be no parking available at the Peterborough Lift Lock or Peterborough Lift Lock Visitor Centre (except for vehicles with Handicapped Accessible signage). A paddlecraft drop-off option is available at the Peterborough Lift Lock Visitor Centre.
Parking options nearby
---
Media
Looking to cover Lock & Paddle 2023 for your media outlet? Reach out to trentsevern@pc.gc.ca for more information.
Do I need to register for Lock & Paddle?
No! For Lock & Paddle 2023, participants are not required to register in advance of the event. However, we will have information stations on site should you have any questions during the event.
Can I participate with a Stand Up Paddleboard?
No. Stand up paddleboards (SUP) are not recommended on the waterway due to increased boat traffic, and are prohibited in all locks.
Do we still have to pay lockage fees?
Lockage will be free at Lock 20 - Ashburnham and Lock 21 - Peterborough Lift Lock for all paddling participants of Lock & Paddle on Saturday August 26.
Where does the event start? Where do I put my vessel in?
The event begins at the Lock 21 - Peterborough Lift Lock. Vessels can be loaded into water at various locations. See: Getting here
Can I park at the Peterborough Lift Lock?
There will be no parking at the Peterborough Lift Lock for paddle participants. Only those with handicapped accessible signs will be accommodated. See: Parking
After we paddle up the locks, how do I get back to my car?
When Lock & Paddle concludes, you can paddle to the closest launch option to your vehicle. Portage options are available around Lock 20 - Ashburnham, but we do recommend planning to get picked up at Rogers Cove or the Trent-Severn Waterway Headquarters. See: Parking
---