Land Mammals
Pingo Canadian Landmark
Few large mammals make The Pingo Canadian Landmark their permanent home, but many species take advantage of its varied habitats for short periods of time. It is not unusual to see barren-ground caribou (Rangifer tarandus groenlandicus) from either the Tuktoyaktuk Peninsula or the Cape Bathurst herds grazing at the base of a pingo.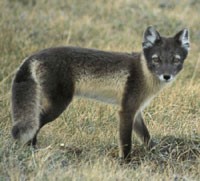 The dry, sandy slopes of pingos
provide ideal denning sites for
red fox (pictured here) and
Arctic fox © Parks Canada..
Barren-ground caribou are listed as threatened by the Committee on the Status of Endangered Wildlife in Canada (COSEWIC). Like many large mammals in the Arctic, caribou are sensitive to habitat deterioration from anthropogenic activities such as natural resource extraction and infrastructure development. Additionally, climate change is warming the Arctic at an accelerated rate, consequentially modifying animal habitat in step.
Grizzly bears (Ursus arctos) can sometimes be seen wandering through the area in search of autumn berries. Grizzlies spend long days eating in preparation for their winter sleep. On rare occasions in winter, a polar bear (Ursus maritimus) may pass through the landmark. Polar bears follow the coastline in pursuit of their main prey, seals. Polar bears and grizzly bears are currently listed as species of special concern by COSEWIC and the federal Species at Risk Act (SARA).
Smaller land mammals such as Arctic fox, red fox and Arctic ground squirrel, also find a home at the landmark. These species find ideal denning sites in the dry, sandy slopes of pingos.