Winter activities
Halifax Citadel National Historic Site
The Halifax Citadel is open to visitors year-round. From November to May, the grounds and Parade Square inside the fort are open but the interior rooms and exhibits are closed.
Explore the Parade Square and watch the 3rd Brigade of the Royal Artillery fire the Noon Gun. Call ahead to book a special guided tour or tasting for your group: 902-426-1990.
Experience full programming from May to October.
Safety
Be careful when using the grounds at this time of year as snow and ice-covered surfaces can be slippery. Winter maintenance of the grounds is limited. Some areas of the fort may be inaccessible. Proceed with caution.
The Ramparts (upper level) are closed in winter, unless weather permits them to be open.
The Dry Ditch (lower level) is closed from November to May.
Map
This map shows the facilities and services available at the Halifax Citadel year-round, weather-permitting.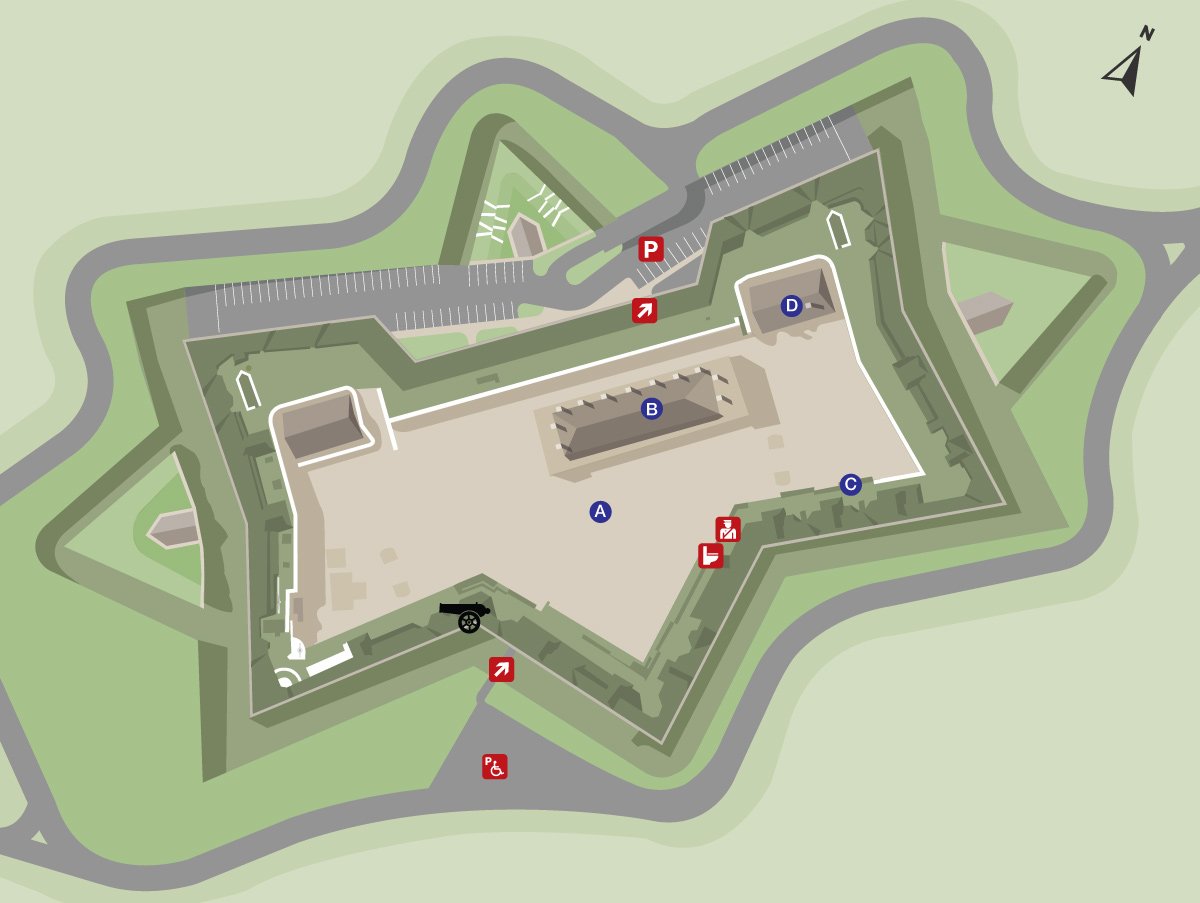 Legend
Points of interest:

Parade Square

Cavalier Building verandah (best place to view the Noon Gun)

Location of the Noon Gun (not accessible at this time of year due to weather)
Meeting and special events rooms to rent:

Cavalier Building Soldiers' Library

North Front Casemates

North Magazine
Facilities and services:

Entrances/Exits
Front Entrance/Exit at the Southeast facing the Old Town Clock and Brunswick Street
Back Entrance/Exit on the west side facing Ahern Avenue and Bell Road

Washrooms
Located across from the Cavalier Building near the front Entrance/Exit.

First aid and security
Located across from the Cavalier Building near the front Entrance/Exit.

Ditch parking
Accessible from the back Entrance/Exit and located in the ditch or lower level of the Halifax Citadel.

Accessible parking
Located at the front entrance/exit near the front entrance kiosk.