Plan your visit
The Forks National Historic Site
Programming at The Forks is over for the season, but the site remains open for visitors to enjoy. We look forward to seeing you in 2024!
The Forks is in Manitoba, in the heart of downtown Winnipeg. Winnipeg is easily reached by road, air and train. Plan to spend a few hours exploring the historic site and market; longer if you're attending a special event.
Directions and distances to The Forks by car, bus, bike, rail, foot and boat.
Location
Location: Forks Market Road
Winnipeg, MB R3C 4S8
Phone
204-927-7874
Email
manitoba@pc.gc.ca
Directions
By vehicle
The Forks National Historic Site is located in the centre of Winnipeg and can easily be accessed by private vehicle. For parking information, please refer to Facilities and services.
By bus
Winnipeg Transit offers bus service to The Forks. For route and schedule information, contact Winnipeg Transit via TeleBUS at   Phone number: 287-RIDE (7433), by sending an SMS (text) to BUStxt at 287898. The closest stop is #10907. Stops #10641 and #10625 at the intersection of Main Street and Broadway (Union Station) are also a short walk away.
By rail
VIA Rail has regular train service to Winnipeg's 100-year-old Union Station, located on the doorstep of The Forks National Historic Site. 
By foot
The Forks is a pedestrian-friendly area you can reach by Winnipeg's beautiful river walks during summer, fall and winter (spring flooding is an expected event in Winnipeg) or by any of the access routes available to vehicles.
By bike
Cycling is a great way to come to The Forks. There are many bike paths on and near the site. We do request that you dismount and walk your bicycle on all ramps and in congested areas, so everyone's visit is pleasant and safe.
By boat
Docking facilities are available at The Forks, so why not come ashore for a stroll?
Free admission, program fees, site and facility use fees and more.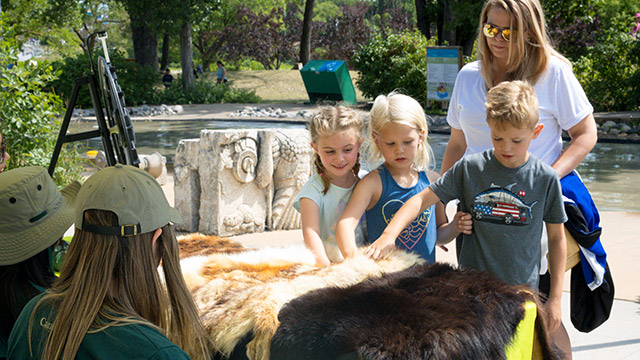 Tour and program times and Fort Parka playground and splash pad hours of operation.
Centrally located in downtown Winnipeg with picturesque views of the city, The Forks is the perfect place for your wedding or community event.